Is Sexting Cheating? Lots of People Don't Think So, Apparently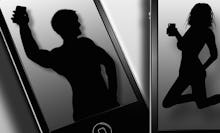 What would you do if you caught your partner sexting with someone else behind your back? Cry? Smash a car window? Make a jug of lemonade?
All would be valid responses. But for a large portion of the people surveyed in a new U.K. study, sexting with another person is apparently no big deal. More than a third of respondents said that they don't think sexting counts as cheating.
The research was carried out by U.K. law firm Slater and Gordon, which recently saw an uptick in adultery-related divorce cases. "We have seen a rise in the number of clients coming to us who think their partner has crossed the line and committed adultery, but not in the traditional sense," Rupi Rai, a lawyer at the firm, told the Huffington Post U.K. 
The firm surveyed 2,150 people to get a better sense of what couples think qualifies as infidelity and what doesn't. While 8% of respondents said that they had indeed sent sexually explicit or flirtatious texts to a person who was not their partner in the last year alone, 35% of respondents said they didn't consider that cheating. 
It's also worth noting that there seemed to be a bit of a gender gap in the results. Women were far more likely to view sexting as a relationship deal breaker, with 49% saying they considered it cheating versus 34% of men. 
Rai had this to say in a press release:
What some might consider a harmless bit of fun – like sending flirty messages or explicit pictures, others consider to be detrimental to their relationship and cause as much hurt and upset as physically cheating.
So in other words, the answer to whether sexting is cheating largely depends on the couple and the boundaries they've established in their relationship. But maybe just err on the side of caution and avoid sending strangers dick pics regardless.