Denmark Might Pass a Tax on Red Meat to Fight Climate Change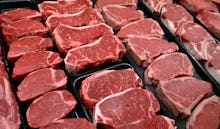 A new climate tax on red meat will soon be up for discussion by the Danish government, after the Danish Council of Ethics overwhelmingly favored the measure, according to the Independent. 
The council said the tax's mission is to deter people from consuming red meat because of the cattle industry's contribution to climate change — which it called an "ethical problem" — and help the country live up to "climate-sustainable" standards set by the Paris Agreement, the Independent reported. 
"An effective response to climate-damaging foods that will also contribute to raising awareness of climate change must be united, which requires that society sends a clear signal through regulation," Mickey Gjerris, Danish Council of Ethics spokesman said in a press release, according to the Local. 
At first, the tax will be set on beef — which the council called the planet's "inarguably most destructive" food — but will eventually extend to other unsustainable foods. 
The Danish Agriculture and Food Council was quick to oppose the bill.
Food council spokesman Niels Peter Nørring argued that the tax would be insufficient to address climate change, while causing trouble for the food industry and public sector, according to the Local. 
Under the Paris Agreement, over 160 countries — including Denmark — are fighting to prevent global temperatures from increasing more than two degrees within the next century. 
Read more: Despite the Paris Climate Change Agreement, We're Probably Screwed