Native American 'Teen Vogue' Model Daunnette Reyome on Cultural Appropriation in Fashion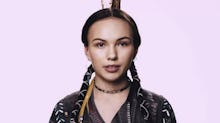 Teen Vogue recently featured seven young women of color in an illuminating video on its website about cultural appropriation.
The models interviewed included a Japanese woman, an Indian woman and an Afro-Latina woman, among others, but Daunnette Reyome, a 17-year-old Omaha model from Atlanta, was the sole Native American who made an appearance. 
In her brief interview, Reyome pushed back on stereotypes about indigenous people and discussed the spiritual significance of Native American cultural markers, like the eagle feather she wears in her hair. 
"This is a real eagle feather," she said in the video. "It doesn't just fall off an eagle and someone says, 'Oh, here — it's yours.' You have to earn it in my culture. I feel powerful when I wear it, more confident, and more connected to my ethnicity."
Reyome is one of a growing number of Native American fashion workers and artisans to take a stand against cultural appropriation of late. 
Mic has profiled several of these artists, who fight daily to produce culturally authentic art in the face of designers, companies and everyday people who play fast and loose with their own versions of Native craftwork — often with little or no respect to its origins.
This can be devastating to Native people, who already must contend with a legacy of theft — of their land, resources and their culture — that has since relegated many of them to the margins of American society and economy. 
"If we continue buying and selling products that use Native designs but don't support Native artists, we're perpetuating cultural appropriation," Louie Gong, founder and owner of the indigenous apparel company Eight Generation, told Mic in October. "Cultural art is like any natural resource. If we don't put back into the environment that's sustaining that resource, we end up killing it."
Similar phenomena can be seen all over. The Coachella music festival, which recently wrapped up its second weekend of festivities for this year, has been ridiculed as a space where white kids run around in face paint and Native American warbonnets, the latter of which is a symbol of honor and prestige among many indigenous peoples.
Meanwhile, Pharrell Williams and Heidi Klum have both been taken to task for appearing on the covers of fashion magazines and arranging photo shoots in which they or their models — none of whom are indigenous — wear Native American clothing as though they were costumes or an accessories akin to eyeliner and baseball caps.
Related problems have even bled into the legal arena. In 2012, the Navajo nation filed a lawsuit against Urban Outfitters for copyright infringement, which remains ongoing. The retailer had been marketing products with colorful prints branded as "Navajo," a name to which the tribe owns the rights and right to profit from.
"It felt personal," Bethany Yellowtail, an Apsáalooke designer based in Los Angeles, told Mic in 2015. She had recently designed a dress that had appeared, without her knowledge, permission or input as to its cultural authenticity, on a runway — worn by a British label's model — at New York City Fashion Week. 
"That design I did comes from a bag that my great-grandmother made. I can't even describe that feeling — here I am, trying to reclaim our voice and represent myself, and this designer acts as if [Native women] are not alive, like we can't do this ourselves," she said.
It is nonetheless encouraging that a younger generation is becoming so well-versed in the issue's nuance. Some have made headlines for expressing their thoughts on the topic — Amandla Stenberg's viral breakdown of cultural appropriation comes to mind — and celebrities from Kylie Jenner to Miley Cyrus have been critiqued for perpetrating in highly public forums.
But indigenous voices have been, and must remain, at the forefront of discussions around how their cultures are profited from and used by others. Soon, hopefully, everyone will see the light — and Reyome is one of the youngsters carrying the torch.
h/t Teen Vogue