Oklahoma Doesn't Think That Forcible Oral Sex While Unconscious Counts as Rape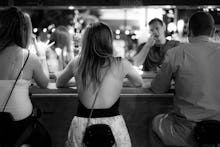 In Oklahoma, it's not considered a criminal offense to engage in oral sex with a person who is unconscious from drinking too much. Legally, it's just a blow job.
In a unanimous decision last month, Oklahoma's criminal appeals court ruled the state's forcible sodomy law does not apply to victims who are incapacitated due to voluntary alcohol consumption. In other words, if someone is too drunk to fight back or say no, they haven't been forced. 
The ruling comes in response to a 2014 case between two high school students involving allegations that a 17-year-old boy essentially forced a 16-year-old girl to give him oral sex while she was unconscious. 
After spending a night drinking with friends in a Tulsa park, the boy dropped off the girl — who was reportedly so inebriated she went in and out of consciousness — at her grandmother's house. Later, she was taken to the hospital, where a sexual assault examination found the boy's DNA around her mouth and on the backs of of her legs. Later, he claimed the girl consented to having oral sex with him. 
Although the young woman reportedly had a blood alcohol level four times the legal limit at the time of the alleged assault, state judges have determined the defendant cannot be prosecuted for forcible sodomy or sexual assault. That's not because Oklahoma's rape laws aren't clear about whether someone can consent to sex while intoxicated (they can't), or because the sodomy law doesn't consider oral penetration (it does). Rather, the ruling appears to be the result of a legal loophole: the state's definition of sexual assault only includes nonconsensual acts of vaginal or anal penetration, so oral sex doesn't count. 
Additionally, the separate law that does consider forced oral penetration (i.e., forcible sodomy) contains several stipulations for acts that are sexually coercive (for instance, orally penetrating a minor who cannot legally consent), but excludes instances where a victim is too drunk to fight back or say no. Because the sodomy statute does not explicitly list intoxication in its definition of what is "forcible," a panel of judges ruled "forcible sodomy cannot occur where a victim is so intoxicated as to be completely unconscious at the time of the sexual act of oral copulation." 
"I told the court that this [argument] is absurd," Benjamin Fu, the lead prosecutor in the case, said in an interview with Oklahoma Watch. "And their response was essentially, 'We're not going to create a crime where one does not exist.'"
"We're not going to create a crime where one does not exist."
The discrepancy is more than a legal issue, according to Jennifer Gentile Long, chief executive officer of AEquitas, an organization that guides prosecutors on sexual violence cases. Long believes the basis for the ruling reflects deeper problems with society's understanding of sexual violence — for instance, a belief that nonconsensual oral penetration is less devastating than an anal or vaginal assault.   
"If you think about the penetration of an individual, it's the most invasive situation that can happen, by force or without consent," Long said in a phone interview. "To try and say penetration of one orifice is more or less serious than another is not in line with the trauma and impact on the victim." 
Society also "tends to minimize digital and oral penetration," she added, which is arguably borne of the belief that if it isn't vaginal or anal intercourse, it isn't "technically" sex. The notion that some types of nonconsensual penetration are inherently more egregious than others can be incredibly damaging to victims, whether it's perpetuated by the law or by the culture. Additionally, Oklahoma's determination that oral penetration is only criminal when it happens "forcibly" sends the message that sexual assault can only happen when it happens violently or coercively, rather than any time it happens without consent. 
"As human beings, we need to understand, [nonconsensual sexual activity] is criminal," Long said. "It wouldn't be accepted in any other invasion of our property. We wouldn't allow people to walk in and out of our homes without our permission, even people we let into our homes. If we have someone painting our houses, we wouldn't expect to find them in our houses in the middle of the night." 
But when it comes to people being touched sexually when they haven't agreed, "all of a sudden we do these gymnastics to explain away penetration that hasn't been consented to," Long said. "It's not in line with how we see personal autonomy." 
It's also just wrong.