Susan Sarandon: More Afraid of Hillary Clinton's War Record Than Donald Trump's Wall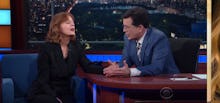 Susan Sarandon still can't quite bring herself to support Hillary Clinton.
During a Wednesday appearance on The Late Show With Stephen Colbert, the celebrity most closely associated with an emerging #NeverHillary faction of the Democratic party refused to close the door on a Bernie Sanders victory at the Democratic convention in July. She added that if it came down to Trump and Clinton, the choice would not be easy.
Read more: Bernie Supporter Susan Sarandon Said Trump Might Be What America Needs
"I'm more afraid of, actually, Hillary Clinton's war record and her hawkishness than I am of building a wall," she said, before quickly adding, "that doesn't mean that I would vote for Trump."
Despite increasingly ominous math, Sarandon suggested a path forward for the democratic socialist still remained if he could gather the support of independents in open primaries, flip superdelegates and ultimately triumph at a brokered convention.
"This is what's going to happen," the Thelma and Louise star told Colbert, grabbing his arm. "We're going to have to have a contested [convention]."
"I will listen to anything you say if you just keep holding my hand this entire time," Colbert quipped.
It's not the first time Sarandon insinuated she just might prefer the presumptive Republican frontrunner over the Democrats' likely eventual choice. During an appearance with MSNBC anchor Chris Hayes in March, Sarandon suggested many were of the opinion that a vote for Trump could "bring the revolution immediately," — a tactic Hayes likened to the Leninist dictum of "heightening the contradictions."
Watch the full Colbert video here: