Laverne Cox, Other Celebs Promoting #JusticeReformNow Over This Unsettling US Prison Stat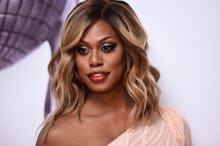 Laverne Cox, Matt McGorry, Gabourey Sidibe, Russell Simmons, Margaret Cho and other celebrities will advocate for criminal justice reform in the United States by promoting Cut50's #JusticeReformNow campaign. Cut50, a bipartisan coalition seeking to safely reduce the number of jailed people in the U.S. by 50% in the next ten years, is slated to hold a press conference Thursday in Washington D.C. on the Sentencing Reform and Corrections Act, aimed at reforming federal sentencing laws. 
Read more: One Chart Perfectly Captures America's Massive Prison Problem
In Cut50's press release, the coalition write that they want to start a "conversation about the ongoing negative impact federal sentencing policies have on communities — and the need to advance sentencing reform."
"Formerly incarcerated individuals who were sentenced to life for low-level drug offenses will share their stories of redemption, discuss their advocacy work, and how the Sentencing Reform and Corrections Act could provide relief for thousands," Cut50 write.
Democratic Sen. Richard Durbin of Illinois and Republican Sen. Mike Lee of Utah will be joined by McGorry of Orange is the New Black, Hill Harper of CSI: New York, Melissa Fitzgerald of The West Wing and Terrence J of 106 and Park. 
Advocates of the cause have been shedding light on the disproportionate stat by tweeting "America is home to 5% of the world's population, but 25% of the world's prisoners. We need #JusticeReformNow!"
The Washington Post reported in 2015 that the U.S. population as of July 4, 2014 was about 319 million — about 4.4% of the world's population of 7.1 billion, according to the U.S. Census. Moreover, the Washington Post reported that "there were 2.24 million prisoners in the United States as of Dec. 31, 2011," which was about  "22% of the global prison population of 10.2 million."