NYC Will Return $1.1 Million Stolen Buddhist Relic to Pakistan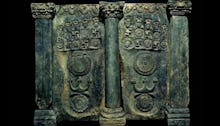 New York City will be returning stolen Buddhist sculpture Buddhapada, which depicts the "footprints of the Buddha" back to Pakistan, according to Gothamist. 
Japanese ancient artifacts dealer Tatsuzo Kaku was going to sell the $1.1 million relic — which dates back to the second century — to the Maitreya Inc. Gallery for Asia Week New York. But on March 14, after tracking a string of emails between Kaku and a rival dealer, officials recovered the artifact from from the Mark Hotel in Manhattan and arrested Kaku.
Kaku initially purchased the 440-pound carved relic in Pakistan in 1982. It originated from an archeological site in Pakistan's Swat region, where ancient relics are protected as "cultural property," according to Gothamist.
"[Buddhapada] and others like it are so much more than commercial property — they represent ancient pieces of history and culture that should be celebrated and vigorously protected," Manhattan District Attorney Cy Vance said in a statement.
 Read more: 9 Priceless Artifacts Museums Should Return to Their Home Countries