Obama Administration Calls on States for Prison Reforms to Reduce Solitary Confinement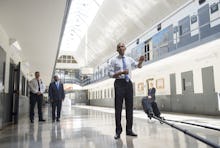 As part of its efforts to make the justice system more humane, the Obama administration is putting pressure on states to amend their laws, particularly when it comes to solitary confinement. Currently, federal reforms can only go so far in the absence of compatible reforms at the state level; for example, in January, President Obama banned solitary confinement for juveniles, but his federal prison reform had no effect on the practices of state-run prisons. 
Approximately 100,000 prisoners in the U.S. are held in isolation on any given day. "This country stands alone among Western nations in its widespread and routine use of extreme and prolonged isolation — commonly called solitary confinement — throughout its penal system," an article on solitary confinement in the Yale Law Journal explained. 
The emergence of super-maximum security prisons designed to facilitate solitary confinement "is the most troubling development in U.S. corrections in recent decades," Human Rights Watch warns. 
This comes as part of the administration's ongoing efforts to make incarceration — and life afterward — more just. "Too often, Americans who have paid their debt to society leave prison only to find that they continue to be punished for past mistakes," Attorney General Loretta Lynch said in a speech on Monday, according to the New York Times. 
Lynch announced efforts would be made to mitigate the marginalization of former prisoners when it comes to housing, jobs and voting, with the aim of reducing recidivism rates. Until the federal and state laws are better aligned when it comes to the justice system, a real national overhaul will likely not be possible.