Beyoncé Dedicates the Finale of Her First Stop on the Formation Tour to Jay Z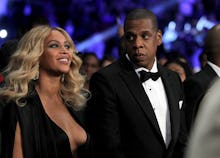 Few albums have sent pop music's rumor mill churning as furiously as Beyoncé's Lemonade. 
Almost immediately after Queen B aired her visual album on HBO, fans of the singer swarmed trying to answer the burning questions popped by the album's most pointed lines. Who is "Becky with the good hair?" Does Jay Z really not get that he "ain't married to no average bitch?" Are Jay Z and Beyoncé, pop's ultimate power couple, finished?
Read more: Rachel Roy, Beyoncé's 'Lemonade' and Why We Must Stop Shaming "Becky With the Good Hair"
On the first stop on Beyoncé's Formation tour Wednesday night, she helped put at least some of these rumors to rest. To top off an explosive set of new and old favorites, Beyoncé dedicated her finale, 2008's "Halo" to her "beautiful husband Jay Z," according to Cosmopolitan.
"I love you so much," she said, to wild applause from the audience.
Beyoncé may not be ready to "bounce to the next dick," as she snarls on the album. The shoutout lends some credence to some of theories surrounding the album that seemed extremely unlikely at first. Maybe Jay really did help Beyoncé write the story to Lemonade.
"They develop these storylines to sell albums," a source posited to Page Six. "Lemonade is a movie crafted to drive sales. Jay and Beyoncé are entertainers at the top of their game. Do you think Jay would release her album on [his own] Tidal if it really was all about him? He is 100% behind this."
With these rumors put to rest, perhaps now listeners can begin to focus on some of the album's deeper ties to the artist's heritage or its attempts to inspire more black women to control their art.