This North Carolina Megachurch Preschool Is Being Sued for Ejecting Kids With Disabilities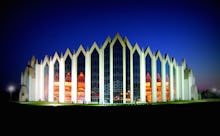 Calvary Church's Child Development Center, a North Carolina preschool program run by church administrators, has been kicking out children with ADHD and a range of disabilities, according to a lawsuit from five Charlotte families. 
Since news of the lawsuit broke, ten other families with children enrolled at the preschool have stepped forward with affidavits detailing their similar experiences with the church. 
Read more: Tommy Hilfiger Just Made History With a Clothing Line for Kids With Disabilities
"My daughter was singled out for behavior and constantly feared her teacher. Very clear to us that her little ego relied on what this teacher would say about her every day," Serena Kelleher told WBTV, according to Raw Story, noting the teacher incorrectly suggested her daughter has ADHD. 
The church denies any wrongdoing, with its attorneys releasing a statement obtained by WBTV reading. "My clients strongly disagree with the allegations that have been made against them," it reads. 
The lawsuit, initially filed in January, alleges that "the staff diagnosed medical issues that didn't exist, and then used the faulty diagnoses as reasons to dismiss," RawStory reported Thursday.
According to the CCCDC website, the program invokes scripture in its teachings, saying "these truths will allow them to develop strong character in a happy and secure environment."
h/t RawStory