The Sex Toy of the Future Is Something You'll Actually Want to F*ck With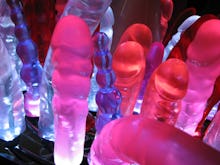 Masturbating with your hand and your imagination is so old-fashioned. Soon you will be able to strap on a bunch of machines for the hands-free rubdown of the future. 
Sex toy company Lovense is developing a hands-free toy that will better connect with virtual-reality porn content. While Lovense toys Nora and Max already sync up with VirtualRealPorn videos by vibrating, buzzing and pumping in rhythm with the talent (as seen below), Lovense marketing manager Eddy Olivares said in an email that the team is now creating an upgraded toy better suited for your next turn at the virtual self-serve station. 
The Lovense team didn't want to pour a ton of time and money into the hardware development if the demand for VR porn sex toys wasn't there, Olivares said. But, as it turns out, it is. 
Lovense isn't the first company to try and get in your pants while you're tuned into the void. VirtuaDolls is a bulkier version of Lovense's Max and it also simulates the motions of on-screen talent. There's also the BKK Cybersex Cup, eJaculator, Pornhub's TwerkingButt and a full on Tenga-clad sex suit, all of which aim to trick your mind, body and appetite into believing the lightweight machinery is really your beloved on the other end of the void. 
Give them what they want: "We had no data to base the demand off of," Olivares said. "At that time, not many consumer headsets were even available. Using our existing hardware made sense. In simple terms, it was a test. In the end, the amount of interest we got from VR early adopters was pretty high — it kind of surprised us." 
So, Lovense poured "lots of money" into the development of this hands-free toy that Olivares said is on track to have a soft launch in August 2016 and a hard launch (no pun intended) starting late September or October. It will likely cost between $99 and $119, Olivares said.  
Not so discreet: You'll have to wait, because at the moment, the toy is "a bit rough" and "very loud," Olivares said. After listening to a video of the prototype in action, I can confirm that it is in fact very loud — it sounds like a blender, and I doubt users, no matter how hot and bothered, will want to put their precious family jewels in or around a contraption that sounds like screeching metal.
But they're working on that — Olivares said the team has been customizing motors and toying around with different materials to minimize the commotion.
Your fuck toy of the future is also getting smarter. The team has been working on the "brains" of the toys to make sure it is equipped with the optimal components so that the toy will "sync precisely" with the on-screen actors. They are also working on "some innovative software" for the toy, Olivares said. 
The downside: You have to consider the clean-up. 
"I think that's the biggest downfall," Olivares said. "No one wants to clean up and mess around with a bunch of machines after having an orgasm. But if the orgasm is much better because of the machines, I guess it's worth it!"
In the meantime, you can stick to your hand and a box of tissues. How analog.