We Need to Talk About the Nightmare That Is Team USA's Olympic Closing Ceremony Uniforms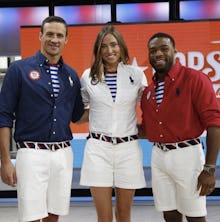 American style is known to be classic yet innovative. American style is known to be rugged, with people wearing blue jeans and a dirty flannel shirts whilst riding a horse, or daring, with our affinity for both sweatpants and baseball hats. 
But at the 2016 Olympic Games, which will be hosted in Rio de Janeiro in August, America's style will be equal parts country club chic and douchebag. 
It'll be like the fraternity bro who threatens to sue you because his father is a lawyer. 
Or the preppy bully who's had a fake ID since he was 15. 
These, my fellow Americans, are Team USA's closing ceremony outfits. Debuted on The Today Show on Wednesday by swimmers Ryan Lochte and Haley Anderson and wrestler Jordan Burroughs, the looks are comprised of a striped shirt, a button-down and a pair of thick white shorts that hit above the knee. 
We are already feeling seasick. 
Read more: The 2016 USA Olympics Gymnasts Team Outfits Are Here and They're Badass
According to Jezebel, the official outfits are some "WASPy bullshit." According to us, these pro athletes look like they're ready to slip into a pair of Sperrys, scream at their dad and sail to Nantucket. 
Upon closer look, they're dressed exactly like the cast mates on the Bravo TV's Below Deck.
The uniforms are designed by Ralph Lauren, the same brand behind Team USA's 2014 Sochi uniforms, which came with an incredibly loud, thick-knit sweater, as well as their 2012 London uniforms, which came with blue berets. 
Earlier this year, it was revealed that gymnasts at the summer games will be wearing sparkly leotards from Under Armour — and their outfits are very cool, with stars and stripes and glitter. But these 2016 closing ceremony uniforms, which will be seen by our global counterparts in a nationally televised event watched by millions of people around the world, have taken a dark turn. 
Are they trying to take a drink order on a cruise ship, or are they going to the Olympics to win some fucking medals? 
Already on Twitter, people are baffled. 
The move is particularly offensive when you see what other countries are coming to Brazil with. France just debuted their uniforms, which were designed by Lacoste and featured in a sparkly new commercial. They look like able athletes who are not about to take your order for a strawberry daiquiri. 
South Korea is reportedly making sure that its uniforms are Zika-proof, which is revolutionary, while Great Britain just revealed theirs — designed by Stella McCartney and Adidas. 
Although the U.K. uniforms have already received criticism for not being the most tasteful, elegant or quintessentially British, they aren't nearly as WASPy as the USA gear.
Then there are Sweden's outfits, which are designed by H&M, predictably stylish, on-trend and sustainable.
Canada's uniforms come with bold blazers so everyone looks like a high-power business person ready to kick ass in a meeting. (Oh, and they're designed by DSquared2, which also just designed one of Beyoncé's concert outfits.)
Especially coming from a country with a plethora of American designers to choose from — like Zac Posen or Marc Jacobs or Donna Karan or Vera Wang — the U.S. uniforms, so distinctly preppy and Polo, are a shame. 
Just think: We could have had wrap dresses from Donna Karan or uniforms with lace from Vera Wang. We could have avoided having a uniform that makes our Olympians look not unlike someone who's about to play beer pong. 
But alas, here we are.