Drake Previews 'Views' With a Visual on the Eve of His New Album Release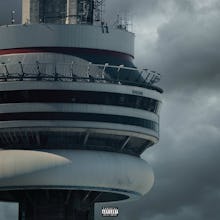 First it was the ever meme-able (and off-scale) album cover, then it was the track list. Now, on the eve of Views' (apparently no longer called Views From the Six) release, Drake has uploaded a preview of the album with a visual.
The clip, uploaded to Drake's Twitter and Instagram, follows a narrative, seemingly laying out his recording process for Views. It opens with a shot in the middle of a snow-dusted road  — presumably in Toronto, Canada.
After some footage of the city's buildings, Drake is seen looking out of a car window...
...ostensibly on his way to the studio.
Finally, we get a foreboding, increasingly overcasting aerial shot of the cityscape, including the CN Tower that is prominently featured on the album cover.
Views drops on April 29 as an Apple Music exclusive, but the album can be heard in its entirety tonight on OVOSOUND Radio on Beats 1. Watch Drake's Views preview below.
Read more: Drake Tweeted the First Photo of His New Album Cover — And the Internet Memed It