This Lesbian Couple in California Is Fighting For The Right to Be Prom Queens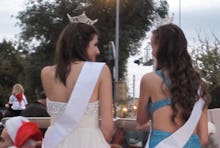 Students at Foothill High School in Palo Cedro, California want their favorite lesbian couple to serve side-by-side as prom queens — and they'll fight any high school "traditions" that stand in their way. 
In a viral Facebook post, Hayley Lack, one half of the same-sex couple nominated for prom court, wrote that the school administration is refusing to let her and her girlfriend serve on prom court, despite the fact that they were nominated by members of the student body. 
In a Twitter direct message to Mic, Lack wrote that she believes she and her partner are being discriminated against based on their sexual orientation. 
"Couples are always nominated by the students. Me and Jenna were nominated as a couple alongside two other straight couples by the student body vote... The way this is set up is insinuated to vote for couples," Lack said.
"Now that a lesbian couple was nominated together, they have decided to say that it isn't about couples at all, but instead individuals, which is just their way of discriminating... All my girlfriend and I ask for is for anyone, regardless of gender, to be nominated under king or queen, whichever is chosen by popular vote."
School officials are insisting that prom court election rules won't allow a lesbian couple to be prom king and queen, even though a lesbian couple received the most nominations. 
"They [the girls] are both able to run separately, but we don't nominate as couples. It's not fair to the boy gender," Principal Jim Bartow said in a phone interview with Mic. 
Bartow said the school has always elected the prom court categories based on gender, not as a couples. "That would discriminate against those without a partner," Bartow said. "I'm not against their [the lesbian couple] relationship."
When asked why the students are outraged if individual nomination is the way it's always been, Bartow said, "they are unhappy because they [the couple] probably see themselves as a king and queen...I don't think there's anything I can do about that." 
Regardless of how long these gender categories have actually been in place, students want to change them immediately, and they're refusing to accept the administration's verdict. Lack is now seeking help from American Civil Liberties Union, with the support of her mother. 
Meanwhile, fellow students are circulating a petition in support of the same-sex couple. Bartow said he's met with one of the nominated girls and the student body, but so far hasn't made any plans to address the students and engage them in a broader discussion. "We're going to craft an email for parents," he said.
These California teens aren't the only lesbians at the center of a prom controversy this year. Just last week, students at Niwot High School in Colorado nominated a lesbian couple as joint prom princesses and faced similar resistance from school officials. 
"[The teacher] said that it was untraditional...for a lesbian couple to be the prom junior princess and prince," Zander Born, a sophomore on Niwot's student council, told local TV station KDVR News. After receiving negative media attention, the school reportedly changed its tune and allowed the same-sex couple to participate in prom elections. 
Days later, Niwot student council's Instagram page congratulated the long-time couple on being crowned the prom "prince" and princess. 
Only time will tell if student activism and media scrutiny will also convince Foothill High School to change its policy. Either way, the students have shown just how much they support and want to honor the couple — and their camaraderie is an inspiring example of how prom can be much more than just another cliché high school event. 
Correction: April 28, 2016