The Tabu App Will Tell You Everything You Need to Know About Sex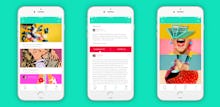 YouTube videos and Dan Savage's musings are no longer enough to quell the millennial's appetite for answers on sexuality. Two Stanford University alumni have created a social network to answer questions on the ins-and-outs of intercourse.
A muted conversation. Talking about sex is hard. That's in part because lots of people don't have someone they can talk to. In the U.S., roughly 73% of high schools require some sort of curriculum around human sexuality. Unfortunately, only about half of U.S. high schools discuss issues like sexual identity or orientation, using condoms in combination with other forms of contraception to prevent both STIs and pregnancy and where to get condoms, according to the Centers for Disease Control and Prevention. A shocking 65% of schools don't provide guidance on how to use a condom, which begs the question: What are they actually teaching in sex ed these days?
Abstinence and the dangers of multiple partners are among the most frequently discussed topics, according to the CDC. 
Outside the classroom, 30% of male adolescents and 22% of female adolescents don't talk to their parents about at least one of six sex education topics: how to say no to sex, methods of birth control, STIs, where to get birth control, how to prevent HIV infection and how to use a condom, according to a 2016 report called "Changes in Adolescents' Receipt of Sex Education, 2006-2013." 
Filling the gap: This void of information is leading some teens to turn to porn for their sexual education, according to the New York Times. To expand teenagers' horizons beyond Pornhub, Elise Racine and Mia Davis created a platform where sexual novices can learn everything from blow job tips to spanking protocol and how to take care of yourself when you're a stripper.
"We're actually creating a social media platform that actually explores the issues of sex, sexuality and gender and really connect millennials to quality sexual health information," Elise Racine told me at the Collision Conference in New Orleans.
Racine and Davis, who graduated from college in 2015, have been roommates since their freshman year at Stanford University. The idea for the platform stemmed from their own discussions about how unsexy sex is in practice and how sex toys are too silly to be taken seriously. 
"Sex is so awkward and every time you see it in the movies it's always hot and steamy, but then you know there are body parts and all this other funny stuff," Davis said. 
An app is born: Together they developed a mobile app and blog called Tabu. The app consists of four components: a public feed of shared articles; a question and answer section; a profile page; and a variation on a frequently asked questions page, featuring a kit of basic information around masturbation, sexuality, birth control and sexually transmitted infections among other topics. For those who need more than a few questions answered, the FAQ page also links to services and institutions.
To source content and provide a list of resources, Tabu has teamed up with San Francisco Sex Information, Bedsider, Sexability, porn star Lorelei Lee and the American Association of Sexuality Educators, Counselors and Therapists. They're also making room for sponsored content, which is how the company plans to generate cash for the project. Tabu is starting with affiliate ad campaigns from sex toy and sexual health startups like Chakrubs, Lola, Lovability and Sustain Natural. 
In addition to offering information about sex, the platform will tackle issues pertaining to sexual identity and mental health and offer insight into different kinds of relationship structures. Users can post links to a big public feed of sex-related articles and ask questions they might be too embarrassed to otherwise. Tabu also offers varying degrees of anonymity. Users can create an anonymous profile and ask questions anonymously, and even if a user has created a public profile, they can choose to post questions anonymously. 
No bullies allowed: Tabu has at least one major hurdle. How does it create a safe space for people to talk about these deeply private subjects? Social networks by and large are plagued by trolls in some form or another. 
Women, in particular, face extreme forms of harassment on the web. Even in conversations unrelated to sex, criticisms are often sexualized. Stemming this kind of behavior online has proven difficult for many social platforms, but there are solutions. For instance, in April, Reddit launched enhanced blocking tools to protect users from harassment.   
Racine and Davis have plans to eventually include flagging and reporting tools on Tabu, but upon launch they'll be the sole moderators of the platform. In the interim, they hope their established community guidelines will shape how users behave.
"People feed off of what they see and if they see it's a bad environment or a place to be hurtful then they'll kind of  build on that," Davis said. She said they plan to seed Tabu with positive content in the hopes of inspiring a tolerant atmosphere. 
Starting young: With its focus on sex and college students, could Tabu become a platform for campus hook-ups? The founders don't think so. Right now there's no way for users to directly communicate outside of the question and answer section. Communication is kept entirely to the comments. Racine said she's not interested in building a one-to-one messaging function, but she and Davis have discussed a potential group chat function that would allow people coalesce around specific issues and for users to continually be a source of support for one another.
The app officially goes live on May 9, 2016. In the fall, Tabu plans to launch an ambassadors program that will seed volunteers around college campuses in effort to spread the word about the platform.