Doctors Say Vaping Is Actually Safer Than Smoking, Could Help You Quit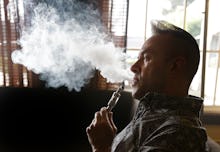 There's good news for people who vape — maybe someone like you.
Doctors in the United Kingdom have concluded that using nicotine-based vaporizers is considerably safer than traditional cigarettes and can be used as a way to quit smoking, UPI reported. 
THIS IS GOOD NEWS
The recommendation was issued by the United Kingdom's Royal College of Physicians. 
"This report lays to rest almost all of the concerns over these products, and concludes that, with sensible regulation, electronic cigarettes have the potential to make a major contribution towards preventing the premature death, disease and social inequalities in health that smoking currently causes in the UK." John Britton, chair of the Royal College of Physicians' Tobacco Advisory Group, said in a press release, UPI reported. 
While it's still unclear what long-term damage vaping nicotine can cause, the researchers found that most vapers were also already using tobacco products and that vaping by itself posed little risk of acting as a gateway to ordinary cigarettes down the road. 
So you know who's going to reduce their risk of lung cancer?
California Congressman Duncan D. Hunter — — — AKA THIS GUY
It's probably still better to do nothing — but if you must puff, have a vape
AND GET YOUR SMOKING FRIENDS ON THEM, TOO.