Bomb Threat at Baltimore Television Station, Suspect Down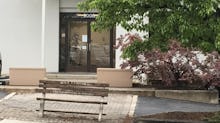 Fox45, a Baltimore television station, was evacuated Thursday after a bomb threat was reported to the building, the station reported.
The suspect, a white male in his 20s, was photographed standing in the building lobby wearing what appeared to be a panda onesie. Graphic footage that aired live on Fox shows the suspect being shot.
The man was described as "not deceased" and "uncooperative" at a press conference by police spokesman T.J. Smith. Authorities are approaching the suspect with an automated robot as the bomb threat remains ongoing, Fox45 reported.
According to Smith, the suspect displayed wires that suggested "some type of explosive device" on his person. A vehicle near the building also appears to have been deliberately set on fire.
"Someone came into the front of the building and they apparently said that they had some information they wanted to get on the air," Fox45 news director Mike Tomko said.
Vytas Reid, the station's chief meteorologist, also confirmed the suspect is still alive.
 This is a developing story. 
April 28, 2016, 4:03 p.m. Eastern: This story has been updated.