'Southside With You' Trailer Shows the Obamas on the Cutest First Date Ever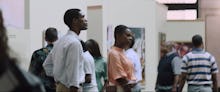 A first date can make anyone nervous, even President Barack Obama. And the upcoming film Southside With You shows what it was like to date the president before he had the title. 
The trailer opens with Michelle Obama — then Michelle Robinson — telling her family she has a date with Obama, and even though she's his boss, he arrives late and his car isn't quite up to snuff, she does admit he's pretty cute. However, she worries what it would mean to date someone who she's supposed to be advising. 
The pair attend the museum, stroll through the park and even go to a community event together. Obama shares his aspirations, which include writing books, changing the world — maybe even politics.
In the clip, Obama dreams of being able to create change and affect policy.
Not to give too much away, but the trailer also shows their first kiss and several other tender moments that show how POTUS and FLOTUS's affectionate relationship began. 
And yes, she does kid with him about his ears. 
You can watch the film in theaters on Aug. 19.