Breastfeeding Is Not Nature's All Time Best Invention — Are We Even Allowed to Say This?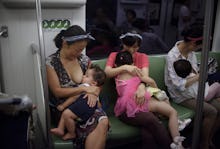 A recent study revealed that, despite what Desperate Housewives taught us, breastfeeding will likely not help you lose a ton of weight. 
The paper, entitled "Association between Breastfeeding, Maternal Weight Loss and Body Composition at 3 Months Postpartum," catalogues the weight fluctuation of 50 women prior to pregnancy, during pregnancy (using their highest weight) and the amount of weight lost three months after giving birth. Thirty-nine of the women in the study breastfed; 11 did not.
Read more: This Photographer Is Using Her Art to Combat a Major Breastfeeding Stigma
The results? There seemed to be no real difference between the two groups of women. Weight loss was "not associated with any breastfeeding practices."
Cue the sound of millions of breast pumps switching off. (Whatever that sounds like.)
The two groups showed no difference in the three measurement categories of absolute postpartum weight loss, percentage of postpartum weight loss and the percentage of overall body fat. 
What the study did uncover, however, was a correlation between the body mass index of women pre-pregnancy and the rate at which they lost weight after giving birth. The lower a woman's BMI before getting pregnant, the faster the subjects lost weight after. 
The more sustainable (and realistic) solution to postpartum weight loss, this study suggests, would be to maintain a healthy, active lifestyle before, during and after pregnancy — and not breastfeeding your kid until they can drive. 
But, hey, Oedipus ended well for everyone involved.