The Surprisingly Sexist History of Your High School Prom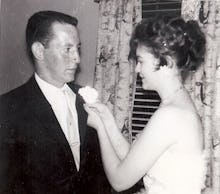 From a young age, little girls are taught to dream about their high school proms almost as much as about their weddings. Prom is night when girls can receive special attention, and dance with their crush under the stars before being crowned a literal queen.  
But even though we tend to think of prom as the ultimate celebration of all-American femininity and a rite of passage for high school girls everywhere, it has inherently problematic — and indeed, arguably sexist — roots. 
The word prom comes from "promenade," a slow walk that usually involves couples displaying themselves, one-by-one. In the 19th century, the word "promenade" was historically used to describe the parading of wealthy young women in front of potential suitors during debutante balls. 
While many people associate prom with high school, the first recorded use of the term was actually to describe co-ed college graduation parties that became popular in the 19th century.
According to writer Ann Anderson's book High School Prom: Marketing, Morals and the American Teen, one of the first historical records of a school prom is a diary entry written in 1884, in which a college student says he was invited to the "Smith Junior Prom," referring to Smith College for women. 
"You don't win prom princesses. You buy them — like show horses.'" 
As more middle-class women started attending school, "proms" emerged as a sort of democratized debutante ball for students who couldn't afford their own 'coming out' parties. Early proms were governed by the same rules and dress codes as debutante balls were: they were racially segregated, for instance, and girls were forbidden to wear masculine clothing. 
Essentially, these early proms were a space for less wealthy girls to learn how to behave like debutantes. 
Indeed, in the early days of the prom, the conversation surrounding the event was very much colored by class issues. Norton Hughes Jonathan, the author of a 1938 dating guide, Gentlemen Aren't Sissies, advised young men to "spend money like water" to attract desirable prom dates, instead of wasting time actually wooing them. 
In the manual, Jonathan argued  that young women would be more impressed by displays of wealth than by romance or intellect, and recommended middle-class suitors not embarrass themselves by trying to court prom dates from wealthier backgrounds.   
"You don't win prom princesses," Jonathan wrote. "You buy them — like show horses.'" 
In the early twentieth century, middle-class youth increasingly started going to high school instead of joining the workforce during adolescence. As high school attendance became more common among the lower classes, upper-class academics worried their less sophisticated peers wouldn't respect the strict gender roles differentiating "ladies" from working women who could interact with men outside of formal, chaperoned settings. 
"Prom was [introduced to schools] to communicate a conservative, class-based gender script to a larger population," sociology professor Amy Best, the chair of George Mason University's Sociology and Anthropology department and the author of the book Prom Night: Youth, Schools, and Popular Culture, said in a phone interview. "To communicate what it means to be a "proper" middle-class girl, just like the debutante balls, both had narrow [gender role] expectations." 
Nearly a century after the Amherst student wrote in his diary about prom at Smith, the 1986 blockbuster movie Pretty in Pink reflected prom's role as a microcosm of American class struggles. In the film, heroine Andie (Molly RIngwald), a girl from the "wrong side of the tracks," hooks up with rich boy Blaine (Andrew McCarthy) at prom, despite the taunting of his "preppy" friends. 
At the climax of the movie, Andie emerges in her homemade pink dress. Through the magic of the dress, she transforms herself from an outcast to a New Wave goddess. The function of the prom dress is clear: to give young women their happy endings, or a shot at respectable, middle-class romance with a wealthy man. 
As times changed and casual dating became the high school norm, the implications of prom shifted somewhat: instead of prom being synonymous with teen romance, it started becoming synonymous with teens having sex. Movies like She's All That and 10 Things I Hate About You perpetuated the narrative that prom night was a time for young women to lose their virginity, while simultaneously featuring teenage boys turning prom into an opportunity for sexual humiliation. 
 "The mainstream idea is 'when you go to prom you're gonna get sexually involved with somebody.' We have seen it in all the movies," 17-year-old Yasmeen Abdalla, a student preparing for her junior prom, said in a Twitter direct message. 
Schools turn to strictly regulating dress codes and same-sex couples as part of an effort to micromanage students' sexual behavior, especially that of female students. 
"Girls' bodies have always been sites of control," Best said. "[Prom dress codes that focus exclusively on girl's attire] is linked to that old double standard that girls are responsible for boys' sexual behavior... but for girls dressing sexy isn't necessarily about sex. It can be about transforming the self." 
But young girls aren't just passive victims of our country's sexist prom legacy. Teenage girls are increasingly taking charge of their prom night fantasies and flipping the script on gender norms by asking their dates out. Abdalla, for instance, is planning a hockey-themed promposal for her date.
While prom has historically been a space for exclusively heterosexual couples, LGBTQ students are also increasingly welcome to participate in the tradition. In 1980, for instance, Rhode Island student Aaron Fricke fought in court for the right to take his partner to prom and won. While decades later, same-sex couples across the country are still regularly barred from going to prom together or being elected to the school's prom court, several same-sex couples have nonetheless been elected as prom kings and queens.
Students are also increasingly bucking problematic (and in some cases outright racist) prom traditions. While many high school proms in the South have traditionally been racially segregated (some even until the early 2000s), students are fighting for more inclusive proms. At Wilcox County High School in Georgia, for instance, students successfully fought to hold the first integrated prom in 2013. 
Although the American traditions associated with prom are rapidly evolving, the event is nonetheless becoming more similar to the bridal industry, according to Anderson, who said the fashion industry peddles prom as a "junior wedding" all about "the bride and her dress." 
In that vein, prom mythology has adopted some of the bridal industry's cliche fixations, such as the obsession with finding the "perfect dress" and  staging a dramatic prom proposal, or "promposal." In 2015, a Visa survey estimated that the average American "promposal," a dramatic public gesture asking someone to prom, costs $324. 
Regardless of the materialistic implications of prom, today young feminists in high schools across America are creating their own new visions of prom princesses, empowered royalty that could never be reduced to mere show horses. 
"It [prom] brings people together; and many new friend groups form around prom season," Abdalla said.