Drake's New Album 'Views': Download, Streaming Info, Track List and More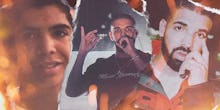 The day has finally arrived: on Thursday, Drake livestreamed his hotly anticipated album Views, formerly known as Views From the 6, on his Beats 1 radio show OVO Sound Radio. The album, which consists of 20 tracks and includes the bonus single "Hotline Bling" — the viral sensation released earlier this year — was then made available for streaming and purchasing on Apple Music. 
The album, Drake's fourth studio album and a followup to his 2013 Nothing Was the Same, features Kanye West and Jay Z on the previously released "Pop Style." 
Read more: As Fans Celebrate Drake's 'Views From the 6,' Here's How the Rapper Became Famous
Drake's latest album was originally expected to be titled Views From the 6, but according to his Twitter posts and reports ahead of the album's release, it's title was shortened to just Views. When considering his recently released tracks "Pop Style," "One Dance" and the album's bonus track "Hotline Bling," it becomes clear the Canadian-bred hitmaker is aiming to blend a world of influences into one all-encompassing album. 
Check out the album track list for Views below:
April 29, 2016, 9:40 a.m. EDT: This story has been updated.