Did Mads Mikkelsen Just Drop a Huge 'Rogue One: A Star Wars Story' Spoiler?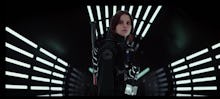 Editor's note: Potentially serious spoilers ahead for Rogue One. Obviously.
The trailers for the latest Star Wars installments have been pleasantly vague, taking care not to reveal too many plot points. There was little indication that Rey (Daisy Ridley) would be the promising Jedi she turned out to be in The Force Awakens — the trailers plainly hinted toward Finn (John Boyega) assuming that role. However, for the upcoming anthology film, Rogue One: A Star Wars Story, actor Mads Mikkelsen might have accidentally spilled a major plot point.
During a live interview with Sky News on Thursday, Mikkelsen was asked about his role in the upcoming film. Since his character is still unknown, however, the understanding was that he wouldn't be allowed to say much. Even so, he dropped this (maybe) bombshell about his (possible) relationship with the film's protagonist, Jyn Erso (Felicity Jones). 
"I read the script and it was very beautiful, and Felicity [Jones] is playing this lovely young, strong woman, and I play her ... father," he says, before adding. "That was too much, I'm sorry." 
Real smooth, Mads.
But when the enterprising interviewer then asked whether Mikkelsen would spill the beans on a potential Darth Vader cameo, the actor stayed mum.
Now, Mikkelsen's slip-up isn't concrete evidence that he is going to play Erso's father — but it certainly does raise some questions. It would explain why the role hasn't been disclosed publicly, and why he wasn't deceiving us when he previously hinted that he wouldn't be playing a bad guy in the film.  
Most importantly, it gives eager fans an opportunity to expand some theories about what Erso's father could be like, and how that might have influenced her to join the Rebel Alliance. At the very least, it makes more sense than Erso being Rey's mother.  
So now that you're ruined too, check out Sky News' full interview with Mikkelsen — where he also talks about his upcoming villainous role in Marvel's Doctor Strange — below: 
Read more: Fans Are Going Predictably Apeshit Over the 'Rogue One' Teaser Trailer