Fantastic Negrito Is Using Black Roots Music to Speak to Modern Day Issues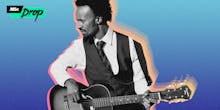 Mic Drop is a Friday series, highlighting musicians who stood out from the week's noise, offering the boldest social, political and artistic statements. This week, blues artist Fantastic Negrito talks drawing from the masters of black roots music to craft genuine, healing music for the 21st century.
In February 2015, Oakland-raised Xavier Dphrepaulezz won NPR's Tiny Desk Concert under the name Fantastic Negrito with a harrowing blues song, "Lost in a Crowd." He recorded it in a rusting freight elevator, which intensified the rawness of all textures in his pained wail. Its power was undeniable, bringing an ever-growing avalanche of opportunities to his doorstep. 
Fast-forward to Wednesday, April 27, and one could catch Fantastic Negrito appearing on a much larger stage, performing the song on the most recent episode of Fox's Empire.
Read more: Charles Bradley Talks the "Changes" He's Gone Through Rising From Homeless to Headliner
The name Fantastic Negrito, and the music Dphrepaulezz records under it, is a nod to the pioneers of black roots music, artists like R. L. Burnside, Son House, Robert Johnson, music his "ancestors — my great-grandmothers —  were listening to," as Dphrepaulezz said we spoke to him on the verge of his breakout last year. For his debut album, The Last Days of Oakland, Dphrepaulezz is using those forms to speak to modern day issues. 
His latest single "About a Bird" deals with the narcism that social media tends to breed; his previous, "Working Poor" deals with the unseen costs of gentrification. But Dphrepaulezz always sings about them in a way that leaves space for hope, as the artist explained when we caught up with him over the phone Thursday.
Mic: Tell me about writing "About a Bird." What does it mean to you?
Xavier Dphrepaulezz: It's a song about narcissism, and I always tried to be as forthcoming as I can with myself, because it seems so pervasive in our culture today. We seem very self-absorbed. We have Twitter, Tumblr, Snapchat and Facebook, and I feel like sometimes we get caught up in these things. We forget that we have these people that are robbing us blind and controlling the majority of the wealth in the world. 
Oddly enough, that's what the song is about to me: Narcissism, and the disease that it is. But there's still hope and optimism. "Take a chance on me," the song goes. We all deserve a chance; I believe that.
You mentioned in the song's premiere that it was about mental illness as well. How does that factor in?
XD: To me, narcissism is kind of a mental illness. I know because I consider myself a recovering narcissist. In a general sense. Maybe for survival, maybe fear, maybe growing up with 14 siblings and being in the middle, you're either going to go one way or another, and mine became self-importance. I left home when I was 12 and never returned to my family because of what they did to me. 
I think the older you get, the easier it gets to say this stuff out loud. I try to be as forthcoming as possible, because that's hard too. None of this stuff is easy.
"To me, narcissism is kind of a mental illness. I know because I consider myself a recovering narcissist."
Looking back at our conversation last year, I remember we spoke about Prince a little, and I know your last attempt at major label stardom had you trying on some of his styles. How has his death affected you?
XD: Well, it's devastating every time you lose loved ones. Prince was my boyhood idol — probably the reason I even got into music. My heart goes out to his family. As an artist, he definitely made his mark. It's one of those things — every time I look at death, I feel there's a lesson. So that will reveal itself. 
Could you elaborate on that? It's an interesting idea.
XD: I've lost family, close friends, idols. I lost a brother when he was 14. I lost him to gun violence, and I thought about it for a long time for many years. And I always thought about it like, what was the lesson? What was the message? It's up to us to seek that.
Tell me about The Last Days of Oakland. What can the people expect?
XD: I really thought about the title — The Last Days of Oakland — when I was playing Ozzfest in New Orleans. It just dawned on me that, wherever I was going in all these major cities, there was just a shift. The cities were changing and a lot of people couldn't afford to live in them anymore. People are working harder than they've ever worked before and bringing home less pay. The cities are becoming unaffordable to everyday people, who are called the "Working Poor" now — people are working 60 hours a week just to live in an apartment in the big cities. I feel like a lot of African-Americans have moved out of the big cities. There's a change.
I thought about my hometown. The Oakland I grew up in is gone and now there's a chance for something new. That's how the songs fit together for me. It's a journey through the last days of what Oakland meant. For me it's kind of a renaissance. We have a chance to build something new. Sure, there were great things in the old Oakland, but we will find those again, there and elsewhere. It's up to us who remain to uphold those standards.