Donald Trump Protest in California Ends in Scuffles, Arrests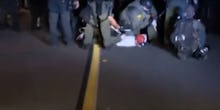 Where real estate mogul and Republican frontrunner Donald Trump goes, mayhem often ensues. That was certainly the case Thursday night in Costa Mesa, California, where the GOP candidate staged a massive rally in advance of the state's crucial primary on June 7.
Read more: Donald Trump Just Sucker-Punched the #NeverTrump Movement
Police in riot gear and on horseback were seen corralling protesters who had gathered in opposition to Trump, whose comments about immigrants, Muslims and women have often incited outrage among his opponents. Roughly 20 people were arrested as numerous scuffles broke out amid the crowds, according to CNN and local law enforcement. A police car was also damaged. 
CNN reporter Jeremy Diamond was on the scene and posted updates on Twitter:
"I'm against Trump's nativist and nationalistic agenda, which divides people and is very hateful of the other," 26-year-old protester Rojelio Banuelos told CNN. Banuelos was also seen carrying a sign reading, "Liberation not deportation."
With its 172 delegates, the Republican race is likely to come down to the Golden State. A significant win there holds the potential for Trump to put away the nomination on the first ballot during the party's July convention in Cleveland. Alternatively, a loss could leave Trump below the minimum threshold to win the nomination outright and pave the way for a brokered convention — something that has not happened in either party since 1952.