Donald Trump Rap on 'The Daily Show' Creates a Great Song From Just His Quotes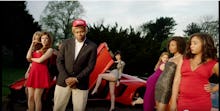 Now that GOP frontrunner Donald Trump is looking more and more likely to be the Republican presidential candidate in 2016, he has said that he aims to act more "presidential" and less of an entertainer. The problem is, the Trump we've seen on the campaign trail might be better fit to be an entertainer than a president. 
But how about a rapper? Well, Daily Show correspondent Roy Wood Jr. found out by using Trump's own quotes to make a rap video — and he makes a pretty compelling case that Trump would "make America great again" as a rapper. Just look at these bars: 
"Fingers long and beautiful/ Look at these hands/ I win, I win, I always win/ Some people would say I'm very, very, very intelligent" 
For further proof that all the lyrics are, in fact, Trump's own words, the music video shows the quotes along with a date for when they were said, with some coming before his presidential run (like his creepy comment about how he'd date his daughter, Ivanka). 
The full lyrics — along with detailed annotations — are up on Genius.com, so this is pretty legit. You can check out the full rap video, "They Love Me," from The Daily Show below: 
Read more: Trevor Noah Shows Donald Trump Objectifying His Own Infant Daughter on 'The Daily Show'