The Hidden Message of Victoria's Secret's New Unpadded Bras? Small Breasts Are Better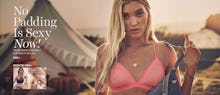 In Victoria's Secret's latest commercial, introducing its new line of bralettes, one model asks another, "What do you like, Tay?" to which she screams "No padding!" and "Being free...let the bra show and just bring it on." 
Could you imagine Adriana Lima, who frequently modeled VS's Bombshell bra (the one that can boost your bust two cups sizes), saying the same thing?
Read more: Believe It or Not, the Victoria's Secret Fashion Show Has a Boob Problem
Victoria's Secret has built its empire on a sky-high pile of push-up bras. 
In Victoria's Secret advertisements, above all else, cleavage is a priority. So the idea that the company is now pushing a line of completely unpadded bras seems off-brand. But really, it isn't. Victoria's Secret bras only run up to a size 40DDD, and the push-up bras they advertise are built to hoist up smaller breasts and make them appear larger.
All along, they've been sneakily catering to women with small breasts by selling them bras that promise to make their breasts look bigger. So now for the first time ever, with a new campaign prizing small breasts sans padding, the company is just being honest about its secret: Their bras are for small-breasted women only.
With tagline, "No padding is sexy, now!" the ad campaign sends a message that, at last, small breasts are a-okay. But to VS, weren't they all along? Once you really think about what sorts of people have been able to shop at Victoria's Secret, that's certainly true. 
Since the company launched in the 1970s, it's pushed the idea that, while the illusion of large breasts are sexy, actual large breasts themselves are not. 
On Twitter, people seemed to immediately jump to that conclusion as well. 
Victoria's Secret has a longstanding boob problem. The first real issue with the campaign here is that, with nearly all VS bras, this is a style that is inaccessible for people with large breasts (the new line of bralettes run from XXS to XL, hardly enough room to fit, say, a person who has a 34G cup or larger). 
Blame Kylie Jenner, her sister Kendall, her best friend Gigi Hadid or Gigi's sister Bella. These are the undeniably super-thin supermodels with small, perky breasts who have been spotted wearing bralettes around town, under tuxedo jackets, or to (of course) Coachella, and effectively launched them into fashion's mainstream. 
Mic has already reported on Victoria's Secret's problem with truly large breasts. During its massively popular annual fashion show, the models are rarely in the D-cup range. They are also never plus-size. Even more recently, Mic reported on VS's difficulties when it comes to producing correctly fitted bras, often fitting people several sizes smaller than they are, so they can still fit into their limited size range. 
Who asked Victoria's Secret for any validation anyway? The second real issue with this campaign has to do with its message, and how quickly VS veered its opinion from "big breasts are better" to "yeah, we guess small breasts can be sexy now too." It seems disingenuous. After years and years of the same push-up rhetoric, why this now? 
On one hand, this is a good thing. Surely, this toxic idea that "big boobs are better" has been hard on people with naturally small breasts, who are forced to fork over $50+ for a VS push-up bra. It has played a part in our culture that will surely take decades to reverse. But why is VS doing this so sneakily? Why must the word "now" be in its slogan "No padding is sexy, now!" 
With a statement like that, the company is insinuating that it wasn't always pushing its bras onto small-breasted people, and that small breasts were somehow lesser than anyone else. They are also insinuating that the company actually wasn't the most public co-signer of this "bigger breasts are better and sexier" social standard. 
It could all have to do with money. Small bras (even those boosted with enough padding to make a B cup look like a D) cost less to manufacture than larger bras. Less construction, less fabric, less labor. With VS's recent layoffs, the cost of manufacturing these bras with little construction really could matter. 
"The time and expense involved in creating new sizes is why lingerie brands often specialize," lingerie blogger Cora Harrington recently told Teen Vogue. "It's also why large companies like Target, Wal-Mart, and Victoria's Secret are slow to expand the sizes they offer." 
However, when the average bra size of American women is 34DD, and VS reportedly has control of 35% of the U.S. lingerie market, with more than 1,100 stores nationwide, millions of people are left at a loss when it comes to easily finding a high quality bra in their size.
Instead, options are online at stores like Naja or Journelle, department stores, which are notorious for boring white and beige bras. With only a small selection of sizes and styles at Victoria's Secret, it's forcing large-busted people to work harder to find a basic, much-needed, everyday garment for themselves. 
With VS's new ad campaign, not only is the company cementing its position as the go-to retailer for bras for small-chested, thin women, it's also trying to backhandedly encourage thin, small-breasted women to shop even more in its stores. When, in reality, they're the only people who have ever been able to shop there. 
This is a giant missed opportunity. This new line could have included bras up to a XXL or an XXXL, or sizes up to a G, but it doesn't. Instead, the bras are more of the VS norm, clearly targeted at thin, small-breasted women. With the majority of American women not counting themselves as part of that demographic, maybe it's time for VS to rethink it's original strategy.