ISIS Has a New Plan to Raise Money — Parking Tickets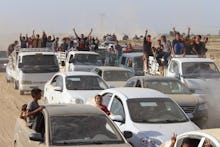 When they're not chopping off heads and unleashing mayhem in European capitals, the Islamic State group, the world's most infamous terrorist organization can be downright banal.
The group, increasingly pressured by concerted international efforts against them, has begun shoring up funds by stepping up the issuance of parking tickets, the BBC reports. Far from a sprawling Islamic caliphate, the move is seemingly lifted from the playbook of cash-strapped municipalities around the world.
Read More: Dog the Bounty Hunter Told Us His Secret Weapon for Destroying ISIS: Pig's Blood
"The trend lines which were all going the wrong way are now going the right way," Brett McGurk, the Special Presidential Envoy for the Global Coalition to Counter ISIL, told the BBC. "It's a lot harder to get into Syria, and once these guys get into Syria it's more difficult for them to get out."
To bolster that claim, Turkey reported that the number of foreign fighters coming into Syria from their often porous border had declined from 2000 a month to around 200.
Despite its increasingly diminished capacities, the terrorist network has proved wily and adaptable in the past, successfully orchestrating attacks in Paris, Brussels, and San Bernardino, California, and has extended its tentacles into Libya.