A Very Important History of Men Wearing Crop Tops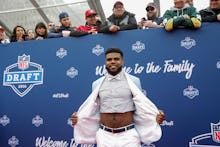 Usually, the NFL Draft is all about men in well-fitting suits, who play football, getting a lot of money. The fashion world pays little mind. But on Thursday, when Ezekiel Elliott took the red carpet before being drafted by the Dallas Cowboys, he got our attention. 
To this life-changing event, he wore a suit with a button-down crop top. Technically, we believe, it was a button-down shirt he had lifted and folded up. But technicalities here don't matter. 
What matters is he looked like this: 
His mother looks extremely proud. 
Immediately, Twitter was a fan. 
Apparently, as a student at Ohio State, he had a reputation for baring his abs at games by folding up his shirt. So this was just an ode to his past. 
"I wanted to be a little different than everyone else," Elliott told Sports Day. "I'm known as the hero in the half-shirt, so I had to go out on the red carpet with a crop top."
Another reason for his decision could have also had to do with politics. In 2015, the NCAA banned college players from wearing rolled-up jerseys, which just so happens to be his signature. In his Twitter bio, it reads, "The hero in a half shirt," and in 2015, he tried to trademark the phrase, as well as, "In crop top we trust." Clearly, it means a lot to him. 
Apart from politics, his look (and crop top) had a deeper cultural nod as well. He told ESPN that his purple suit was an ode to Prince, which is fitting because so is his crop top. 
As with every boundary-pushing, transgressively sexy look for men, it all started with Prince. During tours in the 1980s, he'd often flaunt his washboard abs in a midriff-baring top. 
Like anything Prince has ever worn, he pulled it off. 
He also, probably unbeknownst to him, started a trend. Because throughout the '80s, we were gifted with men like Johnny Depp wearing a cut up sweatshirt in the 1984 film Nightmare on Elm Street. 
This is us: 
(Adam Sandler also wore one in this era but we don't wanna talk about it.) 
A few years later, in the '90s, we realized that the gift of being able to pull off this look is genetic, with Will Smith embracing it during his Fresh Prince of Bel-Air days and passing on the tradition to his son, Jaden Smith, 20 years later. 
We are truly blessed. 
And throughout the last decade, we have been blessed by many a man who's dared to flaunt his stomach. 
There was the rapper Le1F in his 2012 video for "Soda."
There was Zac Efron. 
And then there was the pièce de résistance: Kid Cudi, at Coachella in 2014. 
He apparently sparked a revolution, and we aren't the least bit surprised. 
We, as a society, should feel lucky to have experienced this new wave of men with impeccable bodies understanding and recognizing and happily flaunting them. 
May this trend never die.