Megyn Kelly Schools Gov. Pat McCrory on the Real Problem With Anti-Trans Laws in NC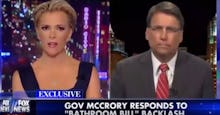 Fox News host Megyn Kelly talked to North Carolina Gov. Pat McCrory on Thursday about the anti-trans bathroom bill HB2.
"What was the fear that led to the enactment of this law?" Kelly asked.
Kelly asked McCrory why he was "concerned about girls exposing themselves or seeing somebody exposed" in women's restrooms, especially since most are equipped with individual stalls. 
When McCrory had to defend HB2, which requires people in North Carolina to use the bathroom that matches their gender assigned at birth rather than their gender identity, he veered off topic and said this was a problem caused by the left and not the right. 
Kelly next debunked claims that HB2 promotes children's safety. After she called misconceptions about transgender people as predators "not true," she again asked McCrory, "What is your fear?" 
"Typically male molesters are heterosexual, and if they want to sneak into a bathroom they'll do it," Kelly said. "But 90% of the cases, molestation happens with someone you know. So what is the fear with the transgender situation in the bathrooms?" 
Darkness to Light, a sexual abuse advocacy group, corroborates Kelly's statistic — 90% of child sexual abuse happens with someone the family knows or trusts. 
McCrory finally answered Kelly's "fear" question and said families have a "basic expectation of privacy" when it comes to their children using a public restroom. 
However, if privacy or security is McCrory's concern, HB2 doesn't seem to be the way to achieve it. There are zero recorded instances of a transgender person doing anything in a bathroom except minding their own business. In fact, many transgender and gender-nonconforming people report feeling unsafe in public bathrooms. 
And others, well, they just ignore the law and pee in peace.