Colombia Just Legalized Same-Sex Marriage, Court Decision Grants Equal Marriage Rights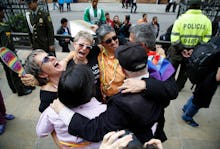 Colombia became the fourth Latin American country Thursday to legalize same-sex marriage, joining Argentina, Uruguay and Brazil. According to Newsweek, same-sex couples had previously been allowed to form civil partnerships before Thursday's court decision granting them full marital rights.
A ruling earlier this month cleared a path for marriage equality when a 6-3 vote killed a petition stating that marriage should be reserved for heterosexual couples, the Guardian reported.
Read more: Alabama Judge Says Same-Sex Marriage Ban Stands Despite Supreme Court Ruling 
While Thursday's decision may have been pre-empted, it's still comes after nearly five years of push and pull on the social issue. According to the Guardian, in 2011 the constitutional court recognized same-sex couples as families and called for congress to legalize same-sex marriage, stating that if legislators hadn't passed a law in two years time, same-sex couples could enter civil unions.
And in 2015 the courts allowed same-sex partners to adopt children, but still skirted the question of marriage, postponing debates surrounding its legalization eight times over the next several months.
Following the court's earlier decision to thwart the anti-same-sex marriage petition, LGBT rights activist Luís Felipe Rodríguez told the Guardian, "This is a victory against all the conservative political parties, against the Catholic church and everyone who tried to block our rights."