Liberty University To Allow Students to Possess Concealed Weapons in Dorms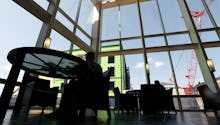 Last week, Liberty University's Board of Trustees made a new policy change for its students. 
This fall semester, students, who are at least 21 years old, will be able to possess concealed weapons in their dorms, according to WNCN. 
To have a gun, all of the students in the dorm room must agree to it, the gun owner must have a permit and the gun itself must be kept in a safe.
Those students in favor of the rule say having a weapon would make them feel safer when walking around campus at night. Others think it'll lead to more violence. 
"We feel that our campus is actually safer because there is an unknown number of people on campus who would be able to defend themselves and maybe others should something tragic occur," the school's General Counsel David Corry said, according to WNCN.
So now, while concealed weapons are allowed on campus, "entering residence hallway, quad or on-campus apartment of the opposite sex (or allowing the same)" is not, according to its Student Code of Conduct.
Neither is drinking alcohol, even if a student is over 21-years-old and at a nightclub or bar.
Guns are okay on campus, but spending the night with someone of the opposite sex is not.
Female students can't wear skirts (more than two inches above the knee) or shorts to class.
But guns are all good. 
Students can't swear, but students can have a gun.
Sexual relations "outside of a biblically ordained marriage between a natural-born man and a natural-born woman are not permissible."
But guns? Guns are fine. 
Guns in college dorm rooms, what's the worst that could happen?
Read more: One Map Shows How Devastating U.S. Gun Violence Is Compared to the World