Cruz and Trump Aides Formerly Advised a Despotic Guatemalan Politician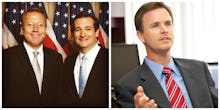 Two high-profile aides for GOP presidential candidates Ted Cruz and Donald Trump advised far-right Guatemalan presidential candidate Manuel Baldízon, who ran on a platform which consisted of televising executions, the Guardian reported Friday.
Ron Nehring, working for Cruz, and Tim Clark, working for Trump, are both leading the candidate's campaigns in California — a crucial state in the primary — and both did a stint on Baldízon's campaign's together.
Read more: Attorney General Says Clinton Email Probe May Not Be Settled Anytime Soon
Clark told the Guardian that he linked up with Nehring in 2011 after Nehring reached out and asked Clark to join him in Guatemala and help advise the conservative, populist candidate who has been mired in corruption scandal and rumors of links to narcotraffickers. Their work was corporately financed as opposed to formally being part of the campaign.
"In many ways it felt like you were the shiny object in the room: 'Oh, the American strategists are here,'" Clark said. "But Ron did a really good job of helping set [Baldízon] on message, I felt."
However, after the interview Clark backtracked, sending the Guardian a statement undermining both of their roles. He reneged on some of his comments, saying "[we] were not in any way privy to all of the campaign's media and messaging strategies."
"Working under Ron's umbrella, our role was specifically advising, where possible, on free market, economic growth policies," Clark added. "If our time there was made to look more than this, it would be a completely inaccurate portrayal of our activities."
Insert 'suspicious face' emoji.