A Trans Teen's Heartbreaking Story of Being Abused by His Parents Is Going Viral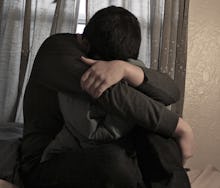 A  transgender high school student in Jacksonville, Florida is fighting for the right to live with his adoptive family after his biological family reportedly abused him. Now, his friends are using the hashtag #RiseForRyan to spread a message of hope to LGBTQ youth across the country. 
Ryan Stalvey, 16, came out as transgender to his parents two years ago. Since then, he said in a phone interview, both his mother and his father have physically and emotionally abused him, allegedly forcing him to undergo conversion therapy and regularly beating him. 
Stalvey said that, last year, his school called child protective services on his father. (A guidance counselor from James Weldon Johnson Middle School, where Stalvey attended school, did not immediately return request for comment.)
While the case against his father was ultimately dropped, Stalvey hasn't spent time with him outside of the courtroom since. (In a phone interview, spokesman John Harrell of the Florida Department of Children and Families said that legally, he could not disclose any information about the case, or confirm whether a report against him was ever filed at all.)
In January, Stalvey shot what appears to be a video of his mother attacking him at home. 
"We were watching the footage livestream from our home," Stalvey's adoptive mother Heidi Dennis said in a phone interview, "because we wanted to make sure Ryan was safe. When the abuse started, we immediately called the police." 
Earlier this month, the court determined that all charges against Stalvey's biological mother would be dropped if she completed therapeutic trainings, community service and paid a fine. Following the verdict, Stalvey posted footage of the alleged attack on Tumblr, where it quickly went viral. (Mic has reached out to Stalvey's biological mother and is waiting to hear back.)
"I wake up in the middle of the night with the same dream, over and over again, with my mom on top of me again, choking me."
Currently, Stalvey is living with the Dennis family; however, Stalvey's mother is still his legal guardian and lives nearby. He said he still has trouble sleeping because he is terrified that his biological mom could force him to return home with her. 
"I wake up in the middle of the night with the same dream, over and over again, with my mom on top of me again, choking me," Stalvey said. 
Dennis said she's struggling to help Stalvey and keep him safe without having the rights of a legal guardian. 
"Taking him to the doctor is going to be a problem... I can't do anything. His parents won't give him back his school books, medicine, nothing," she said. "His mother has made sure all his teachers refer to him [Ryan] as female, and there's nothing I can do. It's really frustrating to try to raise a child without any legal rights." 
Stalvey is now asking the state to transfer his guardianship to the Dennis family. He organized a small protest outside the local courthouse this Saturday to raise awareness about child abuse and transgender issues. Classmates have rallied around his cause and are spreading the word on social media with the hashtag #RiseforRyan. 
Bradley Landon, a medical case manager at the local LGBTQ youth nonprofit Jasmyn, is familiar with Stalvey's case. (Jasmyn has done work with the gay-straight alliance at his high school.) 
In a phone interview, Landon said that transgender teenagers in the Jacksonville area have few options if their home environment is abusive, as there's only one shelter in the area that's considered safe for trans people. He also noted that Stalvey's case is far from unusual. 
"We see a lot of LGBTQ youth experiencing family rejection and abuse and they are in foster care," Landon said. "This is not a unique story."   
It's not specific to Florida, either. Reports from the Human Rights Campaign found that LGBTQ youth are over-represented among the national foster care population. In fact, a Los Angeles study found that 19.1% of foster youth in the area are LGBTQ. 
With government systems failing abused kids, and homeless shelters across the country instituting homophobic policies (such as refusing to admit same-sex couples), Stalvey's story is rare in that he's found a loving family to care for him. Now, it's up to the courts to decide what happens to him next. 
h/t ActionNewsJax