Justin Trudeau Takes a Powerful Stand for Canada's Indigenous Peoples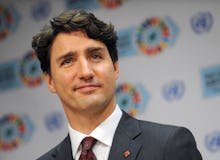 Canadian Prime Minister Justin Trudeau announced a new budget plan in March, and with it he sent a powerful message to the indigenous peoples of Canada. The new budget promises $8.4 billion over five years to Canada's indigenous peoples.
According to the Canadian government, in 2011, 4.3% of the Canadian population, or 1,400,685 people total, "had an Aboriginal identity." That number includes First Nations, Métis and Inuit peoples. Trudeau reiterated his support for Canada's indigenous peoples Tuesday in a Facebook post.
In the United States, for comparison, there are 2.9 million American Indian and Alaska Natives, according to the National Congress of American Indians. The U.S. federal budget for the 2017 fiscal years allocates $2.9 billion for the Bureau of Indian Affairs.
According to Amnesty International Canada, "Indigenous families and communities in Canada continue to face widespread impoverishment, inadequate housing, food insecurity, ill-health and unsafe drinking water ... Government services needed to improve people's lives and address the legacy of past wrongs often fall far short of what is needed."
With this new budget, Trudeau's government seems to be attempting to address a pervasive equality gap between indigenous and non-indigenous peoples. 
"For too long, Indigenous peoples in Canada have experienced economic and social inequities that have compromised their chances for success," Indigenous and Northern Affairs Minister Carolyn Bennett said Monday in a statement.
"To achieve our goal of meaningful reconciliation with Indigenous peoples we must work in genuine partnership to end these inequities — to close the gap — because healthy and thriving Indigenous communities contribute to a healthy and thriving Canada."