Usher, Prince of the Thirst Trap, Just Flaunted a Millimeter of Bare Peen on Snapchat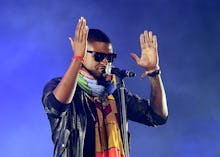 Sensual R&B crooner Usher made a bold move on Snapchat Thursday:
He exposed about a millimeter (or so) of the tip of his penis.
Upon closer inspection, it looks like a few centimeters from the base of his penis make a shadowy appearance as well.
Much like the unofficial king of male thirst traps the Game, Usher enjoys the sport of posting peen-centric photos for his fans to devour and dissect. The last time we got a glimpse of his weenie, it was via a strategically crafted bulge on Instagram back in November.
It's always nice when a 37-year-old man embraces his inner thirsty teen and posts a nude on social media. Especially when all clues point to him having what is probably a most delightful peen! Perhaps one day he'll stop beating around the bush and show us the whole thing.
h/t Cosmopolitan