Zac Efron Drew Dongs on Conan's Face in a 'Mario Kart' Match to Hype 'Neighbors 2'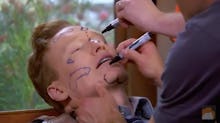 When three dudes in a frat house play a high-stakes Mario Kart game, genitalia doodles are going to end up on someone's face. That's exactly what happened during Conan O'Brien, Seth Rogen and Zac Efron's Nintendo sausagefest. 
Of course, it's TBS, so these aren't big, hairy, veiny, tent-pitching dicks — as O'Brien discloses after a few puffs on his vape, there are "hand-drawn penis safe practices." 
The penis (or "penus," if you're searching Google for it) is more cartoony in its nature. The Standards Department at Turner tells O'Brien during the segment the penis "should not be overly graphic or detailed" and cannot be urinating or ejaculating. 
To remedy the coming masterpiece, Efron whips out his creative side and massages his artistic muscle, transforming the sperm swimming around Conan's face into more network-friendly music notes. 
The segment was a pass to get people excited about Rogen and Efron's upcoming movie, Neighbors 2, and I still have no idea what the movie is about, but if this video was any indicator, it'll include an onslaught of fratty one-liners and a whole load of dicks. 
Some commenters believe this segment was just a guise by O'Brien to get Efron to give him a phallic facial. Or maybe he just sucks at Mario Kart. We'll never know. But at least we have this image burned into our minds forever — 'tis the face of movie promotion desperation.
Watch the full clip here.