Drake Memes Take Over After 'Views' Release — and That's Exactly What He Wants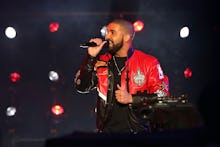 To the delight of many ears and meme-making fingers alike, actor-turned-rapper Drake finally dropped his long-teased LP Views — formerly known as Views From the 6 — late Thursday. Not long after the album, a sappy sidewalk stroll through Drake's fractured romances and friendships, became available on Apple Music, the internet hatched a slew of memes poking fun at the singer's sentimental sound and sometimes asinine lyrics — and that's exactly how Drake would have it. 
Drake is no dummy when it comes to internet culture. His video for "Hotline Bling," which quickly caught fire on the web after its release in October, was tailor-made for the modern internet viewer, filled with bite-size moments just awaiting the perfect GIF treatment. It was largely the firestorm of ensuing memes that propelled "Hotline Bling" onto a global stage. Drake has continually worked to shape his delightful dorkability, which reached its peak with "Hotline Bling," into the perfect subject matter for apps, snaps and memes for digital audiences — and Views is no different.
With lyrics like, "Why you gotta fight with me at Cheesecake" and "I pull up in yachts so big that they try to hit me with boat fines," fans felt like Drake's long-awaited album was the perfect raw material for months of Instagram posts. 
Then there were the seemingly photoshopped memes putting Drake's Views album cover avatar in various places. Toronto, Drake's home city, was hyped for his release. The weather allegedly was 6 degrees Celsius on Friday.
Many listeners felt Views was a doorway into an emotional vortex of past relationships and heartbreak.
Drake may be responsible for multiple couples getting back together. 
Of course, there was the inevitable Meek Mill dig, because hip-hop fans never forget a beef.
Then again, not everyone was into the muted, low-energy beats that overwhelm the album.
In spite of the shade, the latest 20-song album — which includes hits like "Hotline Bling" and "One Dance" and features artists like Future, Rihanna and Wizkid — is likely to make an impact. According to the Guardian's Alexis Petridis, Views "offers a lengthy inventory of miseries, cleverly offset by a sly sense of humor and eclectic sound. It is compelling evidence that this is the defining pop artist of the moment."
Still, the world may just run out of tissues, thanks to Drake. 
Drake has proven himself to be more than a one-hit wonder, as his albums and songs continually top the charts. His fourth album, Views follows Nothing Was the Same, which hit No. 1 on Billboard's 200 chart. However, he's still waiting for that second Grammy. His first and only came in 2013, for Take Care.