Michelle Obama Gets Fencing Lesson From Ibtihaj Muhammad, #BlackExcellence Ensues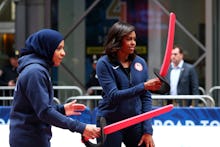 Another day, another example of #BlackExcellence rearing its glorious head for the world to see.
Michelle Obama — de facto President of the United States — and Ibtihaj Muhammad — fencing savant, first American hijabi Olympic competitor and all-around excellent human being — joined forces in New York City's Times Square on Wednesday for a demonstration of their athletic prowess, according to the Associated Press.
It's safe to say that America was not ready.
One might presume that — mere months before the 2016 Summer Olympic Games in Rio de Janeiro — the public would be prepared to handle the #skills, generosity of spirit and #BlackGirlMagic displayed by Obama and Muhammad on that day, when they invited a group children to meet and greet various members of the U.S. Olympic team.
But in all honesty ...
Can you even handle this?!
Best friends forever.
Wednesday's gathering marked 100 days exactly before the start of the Olympics. 
You all know Michelle Obama — who tragically will not be running for the official POTUS title any time soon, though she would undoubtedly win — but Muhammad is a key figure in the annals of #BlackExcellence as well. After placing third at the Women's Saber World Cup in Athens, Greece, in February, Muhammad joined the U.S. Olympic fencing team. She will be the first competitor in U.S. Olympic history to wear her hijab during competition, according to BuzzFeed.
This historic meeting between Obama and Muhammad will undoubtedly be remembered as one of the most excellent displays of #BlackExcellence in the storied history of #BlackExcellence.
And from that day forward, nothing was the same.
Full video here:
h/t AP