Donald Trump Signals His Campaign Against Hillary Clinton Will Be Relentless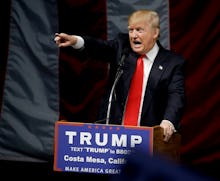 The businessman means business.
After spending the better part of a year focused on tearing down his rivals for the Republican presidential nomination, frontrunner Donald Trump is now training his sights on likely Democratic nominee Hillary Clinton — and he's signaling he'll be just as unsparing in attacking the former secretary of state as he was in going after "little" Marco Rubio, "low-energy" Jeb Bush and "lyin'" Ted Cruz.
Read more: Donald Trump Lays Out Broad-Brush Foreign Policy Platform in Washington Address
Exhibit A: The billionaire took to Twitter on Friday morning to slam "crooked" Hillary as "one of the all time great enablers" — a revival of Trump's attack on Clinton earlier this year for her alleged role in covering up her husband's sexual misdeeds with other women.
The tweet comes on the same day that the New York Times reported, citing Trump aides, that the candidate was "likely" to ding his Democratic rival over Bill Clinton's sexual history. The former president admitted in 1998 to an affair with White House intern Monica Lewinsky, and has also been accused of harassment and rape.
"She's not a victim. She was an enabler," Trump said of Hillary Clinton in January, per the Hill. "She worked with him. ... Some of the women have been totally destroyed. Some of these women have been destroyed. And Hillary worked with him."
Those remarks came just days after Trump warned Clinton to "be careful" in lobbing accusations of sexism, hinting that he considered Bill Clinton's past fair game.
Four months later, with Trump barreling toward the Republican nomination and looking to overcome Clinton's early lead in head-to-head polls, the Democratic frontrunner must now decide how she will respond to the no-holds-barred style of her likely opponent, who will test her in ways that primary rival Bernie Sanders hasn't.
Bill Clinton's accusers may figure prominently in Trump's effort to bring down his wife.
"It still hurts. It's still a very hurtful thing that they continue on in the pattern of denial to people of what this man is," Juanita Broaddrick, who alleges that Bill Clinton raped her in 1978, told Mic in a January interview. Hillary Clinton, Broaddrick said, is "evil. She's doing all of this for political gain. She's absolutely enabled and covered up for him."
In the interview, Broaddrick said that shortly after the alleged rape, Hillary Clinton approached her at a campaign party to thank her "for all I was doing for them" — a remark Broaddrick interpreted as gratitude for her silence.
Broaddrick is now a supporter of Trump's campaign.