Hillary Clinton Trolls Donald Trump With Snapchat Presidential Faceswaps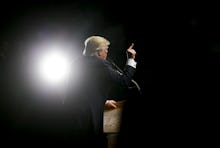 Following up on Donald Trump's promise to become more "presidential," Democratic frontrunner Hillary Clinton took to Snapchat to offer some perspective on what President Trump would look like.
All it took was a little help from Snapchat's Faceswap feature.
"If he tries to be presidential like honest Abe Lincoln," the Clinton camp wrote, swapping Lincoln's face with Trump's. "Remember the time he refused to disavow the KKK..."
Read more: Donald Trump's Signals His Campaign Against Hillary Clinton Will Be Relentless
The skit continued with numerous other presidential Faceswaps paired with some of Trump's less presidential utterances.
Trump's ability to adopt a presidential tone may have come into question for certain things that have come out of his mouth.
Things, for example, like this:
"You know, it doesn't really matter what [the media] write as long as you've got a young and beautiful piece of ass."
And this:
"If Hillary Clinton can't satisfy her husband, what makes her think she can satisfy America."
And this:
"If I were running The View, I'd fire Rosie O'Donnell. I mean, I'd look at her right in that fat, ugly face of hers, I'd say 'Rosie, you're fired.'"
Trump, for his part, already fired back on his preferred medium, Twitter, attacking Clinton's track record — and that of her husband's.