This Promposal Gives Us Hope for the Future of America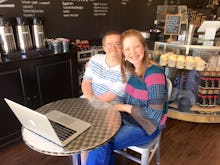 This promposal video out of Wilmington, North Carolina is not only an adorable moment between two friends, it's also a powerful model for inclusion.
In the video, Lillie Wright, 17, asks her friend Trevor Jefferson, 21, to prom with a rhyming sign. Wright and Jefferson, who has Down syndrome, are both employees at Wright's parents' coffee shop, Beau's Coffee, which employs people with intellectual and developmental disabilities.
Read more: A Dad Took Stunning Photos of His Son With Down Syndrome to Show His Strength Has No Limit
Wright's parents posted the video on Facebook on Monday and it's since been viewed 660,000 times and racked up hundred of positive comments.
"Lillie's decision to ask Trevor was completely natural, she has two siblings with Down syndrome," Lillie's mother, Amy Wright, told ABC News. "Lillie values Trevor as a person and a friend ... Everyone at Beau's Coffee loves Trevor and was happy to share in the moment."