US Airstrike on Afghan Doctors Without Borders Hospital Ruled Mistake, Not War Crime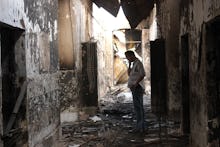 A six-month investigation into October's U.S. military airstrikes on a Afghan hospital has culminated with no criminal charges for the military personnel involved.
Army Gen. Joseph L. Votel, head of U.S. Central Command, said in a statement Friday the strikes and the actions that precipitated them would not be classified as "war crime[s]" because they were not intentional.
According to the Los Angeles Times, of the 16 service members implicated in the attacks, only one has been suspended and removed from his post in Afghanistan. Of the remaining officers, six will receive counseling, seven have been issued letters of reprimand and two will be required to re-enter training courses.
On Oct. 3, U.S. military forces rained down explosives on a crowded Doctors Without Borders hospital in Kunduz, resulting in the deaths of 42 doctors, hospital workers, patients and other Afghans; dozens more were injured.
The attack lasted under an hour "resulting in a large fire that burned some patients to death in their beds," reported the Washington Post, citing hospital officials.
"They were trying to do the right thing," Votel said in the statement, according to the Post. "They were trying to support our Afghan partners. Unfortunately, they made a wrong judgment in this particular case and ended up targeting this Doctors Without Borders facility."
According to DWB, U.S. forces had been repeatedly briefed on the location of the hospital. 
On Thursday, Amnesty International preempted the U.S. Department of Defense report, calling for an independent investigation of the events in Kunduz.
"Amnesty International has long expressed serious concerns about the Department of Defense's questionable track record of policing itself," said Naureen Shah, director of Amnesty's Security With Human Rights program.
Read more: Apparent US Airstrike Levels Doctors Without Borders Hospital in Afghanistan