Your Guide to the 2016 White House Correspondents Dinner, From Start Time to Livestream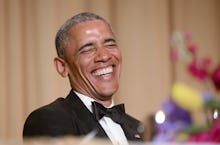 Saturday marks President Barack Obama's eighth and final White House Correspondents Dinner in Washington, D.C. The event, hosted by The Nightly Show's Larry Wilmore, will broadcast on C-SPAN at 6 p.m. Eastern and live-streamed online. The dinner, an annual event that goes back nearly a century, brings together celebrities, journalists, politicians and athletes under one roof for a night of jokes on politics and pop culture, but the event wasn't always a laugh-fest.
Read more: Watch as Obama Calls Ellen's Selfie a "Pretty Cheap Stunt" on Her Show
ABC News credits 1983 host Mark Russell for starting to the trend of the dinner being a comedy and entertainment event. "In its first half century, the evening's entertainment was musical performances, movies and variety shows," ABC News writes. "Stars like Frank Sinatra, Nat King Cole and Irving Berlin have all graced the stage."
Now in the midst of the 2016 presidential campaign, Obama will almost certainly throw some humorous jabs at Donald Trump and some of the other Republican candidates, which he did last year at the beginning of the campaign. He said, for example, that "Donald Trump is here... still." With seven years of experience under his belt, and now that it's his last one, Mr. Obama will likely not hold back with his punchlines — perhaps even some self-deprecating ones aimed at himself.
Wilmore, the featured entertainer at this year's dinner, told CBS' This Morning that "you have to" throw some jabs at the president. "I like Obama a lot. But remember, I only supported him because he's black so I can attack his positions all I want," he joked. 
While Donald Trump isn't scheduled to attend this year's dinner, a number of other politicians are expected to attend. Some of this year's recognizable guests, according to Variety, include Will Smith, Jada Pinkett Smith, Morgan Freeman, Rachel McAdams, Broad City's Ilana Glazer and Abbi Jacobson, Aretha Franklin, Kerry Washington, Shonda Rhimes, Kendall Jenner, Megyn Kelly, as well as Democratic presidential hopeful, Bernie Sanders.