Futuristic Glasses Let Blind Boy See His Mom for the First Time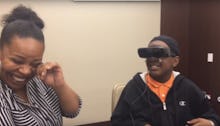 Chris Ward is 12 years old and legally blind. 
His eye muscles never fully developed — a disability called optic nerve hypoplasia.
He couldn't see anything that wasn't within a 5-inch distance from his eyes, so he couldn't read the blackboard at school, study his textbooks or even clearly see his mom, Marquita Hackley.
Until now — thanks to new technology and several hundred online donations. 
Hackley took her son to D.C. a couple of weeks ago to test out a new electronic glasses technology called ESight, ABC News reported.
It allowed him to see her for the first time.
"Once I could see my mom through those glasses for the first time, I was smiling," he said.
"I just broke down and cried. It was just amazing because he's never been able to see details like that," Hackley said.
One problem: His insurance doesn't cover the cost of the $15,000 glasses. 
His mom couldn't afford them.
So she turned to the internet — and the response was overwhelming. 
565 donors helped Hackley raise more than $25,000 and counting o purchase her son the life-changing spectacles — almost double what she needed. 
"Also came to donate seen the goal was reached and above," one user wrote. "God Bless you and your son ... here's to a new world for him."
"I want to say thank you a million times to each and everyone of you that have donated," Hackley announced on the page. "Each of you have helped us shatter the goal! Thank you again and God Bless."  Hackley re-opened the donation page Friday because she was "getting so many emails about people who are still wanting to donate."