Drake's 'Views' Lyrics: Here Are the Best Verses From All 20 Songs Off Rapper's New Album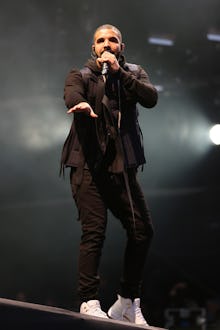 On Friday, Drake graced everyone's ears with his latest and long-awaited album Views (formerly known as Views From the 6). The Toronto-inspired LP features 20 songs, and artists like Kyla, Future and Rihanna. 
In his new album, Drake tackles everything from friendship to having too much money and jewelry, and of course lots of heartbreak — you know, classic Drake stuff. As he insisted to Fader, "I'm really trying to make music for your life."
Read more: Drake Memes Take Over After 'Views' Release — and That's Exactly What He Wants
The album's long track list is also the perfect opportunity for some seriously golden lyrics, with some seriously moving meanings. The 6 God must know a thing or two, after all, since he basically dominated the charts in 2015. 
Below are the best lines from each song off of Views, with lyrics according to Genius:
1. "Anytime people want to start problems/ It's like "for real, are you dumb?" — "Keep The Family Close" 
Right?!
2. "Just to show the city what it takes to be alive for it/ Can't get me on the line so they hang me out to dry for it." — "9"
You know that feeling when your city is asking too much of you?
3. "I group DM my exes/ I told 'em they belong to me, that goes on for forever/ And I think we just get closer when we're not together." — "U With Me?"
If there's one thing Drake knows, it's the woes of modern love. 
4. "There's more to life than sleeping in and getting high with you." — "Feel No Ways"
Duty called and Drake answered. 
5. "You cannot be right there next to me/ Don't you see Riri right next to me?" — "Hype"
Because we all just casually hang out with Riri. 
6. "Back when we couldn't buy pizza cause we were down to pennies." — "Weston Road Flows"
Drake knows that the darkest days are the ones where you can't afford a good ol' Margherita pizza.
7. "Relationships slowin' me down/ They slow down the vision." — "Redemption"
Has Drake come up with perhaps the best and the worst breakup line?
8. "Mixing vodka and emotions, tapping into your emotions/ Dry cry cause I'm hopeless." — "With You"
At least he tried to cry?
9. "Have you coming all summer like a season pass." — "Faithful"
Punny, Drake. 
10. "Nothing mutual about my funds, bout my funds, tho/ All you niggas fightin' over crumbs, where the bread at." — "Still Here"
11. "My last girl would tear me apart/ But she'd never wanna split a ting with me." — "Controlla"
Relationships are hard when someone doesn't ever want to go halfsies on anything. 
12. "Soon as you see the text, reply me/ I don't wanna spend time fighting/ We've got no time." — "One Dance"
Timely texts are the way to Drake's heart, apparently. 
13. "I pull up in yachts so big that they try to hit me with boat fines." — "Grammys"
We all know the feeling. 
14. "Why you gotta fight with me at Cheesecake/ You know I love to go there." — "Child's Play"
God forbid we get banned from the Cheesecake Factory because of a little love spat. 
15. "Got so many chains they call me Chaining Tatum." — "Pop Style"
At it with the puns, Drake. 
16. "It feels like the only time you see me/ Is when you turn your head to the side and look at me differently." — "Too Good"
Does this sound like the face of shade to anyone else? 
17. "Found me some fun that's good for the pain." — "Summers Over Interlude"
Confirmed by Drake, having fun is the best way to boost your mood. 
18. "Girl I'm sleepy/ Sometimes I'm so indecisive." — "Fire & Desire"
I don't think anyone would let these excuses fly, but nice try, Drake. 
19. "You don't worry 'bout fitting in when you custom made." — "Views"
Just some solid self-esteem advice.
20. "Ever since I left the city, you/ You got exactly what you asked for/ Running out of pages in your passport/ Hanging with some girls I've never seen before." — "Hotline Bling"
Sorry to break it to you, but it sounds like she actually might be moving on pretty well, Drake.