Mike Pence's Low-Key Endorsement of Ted Cruz Shows Why Cruz Is In Trouble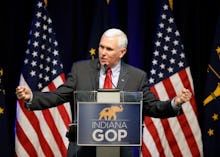 Indiana Gov. Mike Pence endorsed Ted Cruz in the fiery Republican presidential primary Friday, but his careful hedging is a fresh example of how even Cruz backers are being super careful not to end up under the Trump Train.
"I'm not against anybody, but I will be voting for Ted Cruz in the upcoming Republican primary," Pence said in an appearance on Indianapolis radio ahead of his state's May 3 vote.
Read more: Carly Fiorina Comes Out of the Gate Swinging At Donald Trump and Hillary Clinton
"I like and respect all three of the Republican candidates in the field. I particularly want to commend Donald Trump, who I think has given voice to the frustration of millions of working Americans with a lack of progress in Washington, D.C.," Pence told host Greg Garrison on WIBC.
Pence called Cruz a principled conservative with a notable dedication to and knowledge of the Constitution.
But further diluting the endorsement, he added: "I encourage every Hoosier to make up their own mind."
Pence also specified that "whoever wins the Republican nomination for president of the United States, I'm going to work my heart out to get elected this fall."
Crunch time: The Indiana primary is a critical event for Cruz: Another loss would compound a six-state string of defeats to Trump, who has about a five-point lead in recent polls of the Hoosier State.
That's not great news for Cruz. While Indiana might seem a good place for him to harvest more votes, he hasn't pulled ahead even after having struck a non-aggression pact with John Kasich that has the Ohioan essentially bypassing Indiana to focus on contests further west.
To date, Cruz has secured 566 delegates of the 1,237 needed for the GOP nomination, per RealClearPolitics. Trump's got 996. There are 57 delegates at stake in Indiana.
Whether the Pence endorsement moves the needle for Cruz, who's also tried to energize his campaign (and hurt Trump) by picking Carly Fiorina as a running mate, won't be known until Tuesday.
"The most noteworthy part was he wasn't joining the 'Never Trump' camp -- he wasn't talking down to Donald Trump or his supporters," Tony Katz, a WIBC host and political observer, said in an interview.
Katz calls Pence "a pretty subdued guy," so the low-key endorsement didn't surprise him; neither would a less-than-dramatic impact.
"The endorsement from Gov. Pence does not harm Ted Cruz. It helps, but it won't be the deciding thing," Katz said. "I wouldn't say it moves mountains. I think it moves a couple of people who are fans of Pence."
Meanwhile, famed basketball coach Bobby Knight is carrying the Trump standard across Indiana.