Watch High School Student Nadia Goldman Drop a Major Truth Bomb About Rape Culture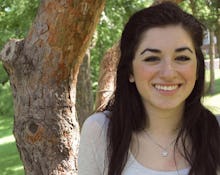 High school senior Nadia Goldman, 18, has been part of competitive debate teams for years, performing at multiple national and state championships. As part of her graduation requirements at St. Paul Academy, she delivered a speech at a routine Friday assembly. Her talk, which addressed the destructive effects of rape culture, subsequently went viral. 
"Maybe there will be a day when my femininity is valued in itself, apart from its relation to masculinity," she said at the podium, "but today is not that day."
Her senior speech tackles sexual assault on college campuses, an issue that affects one in four female undergraduate students. In the talk, Goldman grapples with a culture that teaches women that their anger is invalid. 
"It's all I've ever been taught: 'so sorry, sorry, sorry, I'll stop," Goldman said.
She also tackled sexist tropes like "boys will be boys," and delivered a fierce critique of gender roles. 
"At what point does STOP become NO become "you're hurting me" become 'no' become silence?," Goldman demanded in her speech. "Become illegitimate? Become: 'I don't know, man, she's crazy?'"
In a phone interview, Goldman explained some of the inspiration behind the speech. "My debate partner and I [from the team] talked about emotional manipulation in policy debate, and I wanted to explore the way I present myself at school and other places, not just in formal debate," Goldman said. 
While the speech was inspired by her own personal experience, it was meant to address broader cultural issues, rather than her own story. "It was about stories I've been told, things I've been taught, experiences I've had...it's [sexual assault] swept under the rug and not talked about at school," she said. 
Since delivering her speech, several young women have thanked her and told her about their own experiences with sexual assault.
As a senior applying to universities, Goldman has spent a lot of time thinking about the prevalence of sexual assault on college campuses. 
"A classmate I know applied to colleges based on how they handle rape cases," she said. "Whenever I looked at different colleges, one of the questions I ask first is: how do they deal with these issues?"
Goldman ended her speech with an inspiring message for boys, educators and parents: "Praise women for being women and allow your mind to expand its definition of what a woman is."
h/t Huffington Post