Allison Janney Takes Over White House Press Briefing as West Wing Character CJ Cregg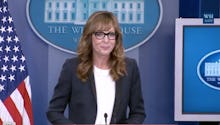 She's back.
A decade after the West Wing ended its seven-year run on NBC, Allison Janney returned to the White House on Friday to reprise the role of her character C.J. Cregg, who served as President Josiah Bartlet's press secretary for most of the show's run, before being promoted to chief of staff.
It was Janney, not real-life Press Secretary Josh Earnest, who stepped up to the lectern in the James S. Brady Press Briefing Room on Friday, joking that Earnest was out for a root canal.
"But let's be honest, I'm better at this than he is anyway," she quipped.
"C.J." informed reporters that President Barack Obama (or is it Bartlet?) was still honing his routine for tomorrow's White House Correspondents Association dinner, promising his speech would be "very funny."
"And second, it is Friday, which means at half-past five, I will be performing 'The Jackal' in my office for anyone who is interested or remembers or cares." Any West Wing fanatic, of course, remembers full well:
Just when it came time for C.J. to meet the press once more, Earnest appeared.
"This is not your show anymore!" he exclaimed. But if she was already at the lectern, he said, she'd might as well stay there.
Janney then got to the real reason she was in Washington: to attend a meeting on addressing the epidemic of opioid addiction, an issue that has galvanized politicians across the political spectrum.
"This is a disease that can touch anybody, and all of us can help reduce drug abuse through evidence-based treatment, prevention and recovery," Janney said.