Drake Says to Keep Your Relationship Drama Out of the Cheesecake Factory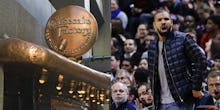 Hip-hop recording artist and Degrassi Community School alumnus Drake is so not here for relationship drama.
By "here," I am referring specifically to the Cheesecake Factory.
Behold this line from "Child's Play," a track off his brand new album Views:
Why you gotta fight with me at Cheesecake? / You know I love to go there ... This a place for families that drive Camrys and go to Disney / They don't need to know all of our business
Honestly? Same. The Cheesecake Factory (or just "Cheesecake," if you too are on a first-name basis with the restaurant) is not the place for melodramatic relationship antics. It is a classy establishment. Its menu is delicious and comprehensive. Its aesthetic is warm and inviting and somehow manages to feel both modern and ancient Rome-y at the same time. A paragon of middle class luxury, it is a place where relationships are meant to thrive, not die.
The court of public opinion seems to share Drake's preference for indulging in cheesecake without a side of drama:
So now that we all agree Drake is right, let's acknowledge the fact that chain restaurants are having a moment. First Beyoncé expressed her love of post-sex Red Lobster in "Formation." Now Drake is proclaiming his stance on interpersonal Cheesecake Factory fights on "Child's Play."
Below, just a few predictions as to what song lyrics of the future might hold:
1. Rihanna cheers-ing to the weekend at a Buffalo Wild Wings.
2. Taylor Swift shaking the excess salt off of her breadsticks at the Olive Garden.
3. Justin Bieber pondering life's purpose from the parking lot of an abandoned Chili's.
All are plausible, TBH.