The Anonymous Hackers Who Took Down the KKK Website Are Going After Black Lives Matter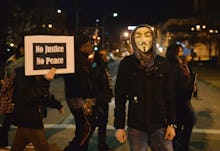 Hackers who use the name of Anonymous claim to stand up for a plethora of values and causes. But now, a faction of Anonymous turns its back on a group you might consider one of their most natural allies.
On Thursday night, a faction of Anonymous called Ghost Squad Hackers claimed to briefly take down the official website of the Black Lives Matter organization, claiming in one post that BLM is a "hate group," using the offensive #AllLivesMatter hashtag.
If the Ghost Squad Hackers name sounds familiar, that's because it's a recently active spin-off faction of Anonymous responsible for a number of effective hits including NASA, Brazilian sites on an internet freedom "hit list" and, most ironically, the KKK.
Choose your enemies: You'd think BLM and Anonymous would be on the same page, as both movements are anti-authoritarian and advocate against systemic injustice. 
Though some anons have thrown critical and obnoxious barbs at the BLM cause, social media accounts for Anonymous, like @YourAnonNews and @YourAnonCentral, often share news stories and media supportive of BLM actions and causes.
So why would a faction of Anonymous target Black Lives Matter?
"Black Lives Matter is moving against anonymous members and we don't like that," Ghost Squad Hackers founder Sc0rp10n Gh0s7 told Mic in a private chat, warning us that we should "brace [ourselves] for our next attacks."
He didn't say precisely how BLM was "moving against" Anonymous, but was possibly referring to fringe reports of anti-Anonymous comments made by dispersed protesters affiliated with BLM causes. We could not find any instance of a BLM organization representative being disparaging or critical of Anonymous.
We asked if BLM, or any related groups, were going to be targets of Ghost Squad Hackers' upcoming campaigns.
"Currently, no," Sc0rp10n Gh0s7 said.
We have reached out to the Black Lives Matter organization for comment, and will update if we hear back. The official website is currently down while they make updates.